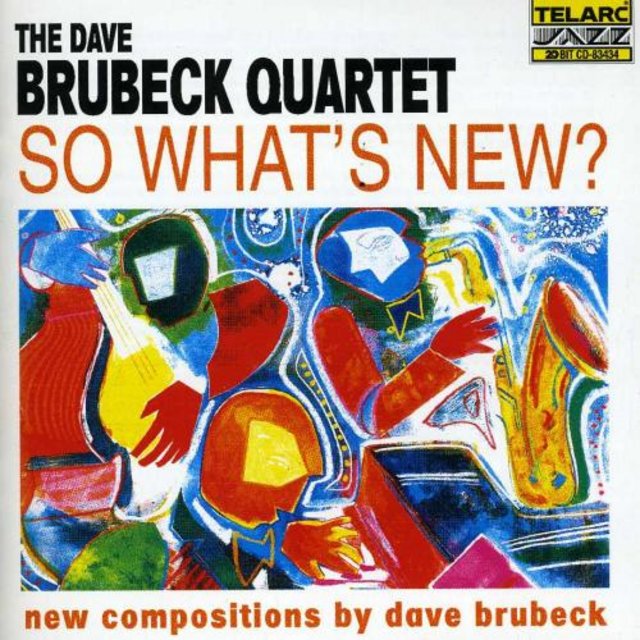 Artist:
Dave Brubeck
Album:
So What's New?
Genre:
Cool, West Coast Jazz
Label:
Telarc
Released:
1998
Quality:
FLAC (tracks+.cue)
Tracklist:
It's Deja Vu All Over Again (Brubeck) - 4:51
Fourth of July (Brubeck) - 5:17
The Things You Never Remember (Brubeck) - 8:01
Marian McPartland (Brubeck) - 4:44
Brotherly Love (Brubeck) - 6:38
I'm Still in Love with a Girl Named Oli (Brubeck) - 5:15
Her Name Is Nancy (Brubeck) - 2:39
Chorale (Brubeck) - 5:38
Sahra (Brubeck) - 4:12
Waltzing (Brubeck) - 7:17
Five for Ten Small Fingers (Brubeck) - 3:00
DOWNLOAD FROM FILECAT.NET >>>
Personnel:

Dave Brubeck - piano
Bobby Militello - alto saxophone, flute
Jack Six - bass
Randy Jones - drums
At 77, Dave Brubeck continued to pour forth new music at a clip that was extraordinary even for him. Whether any of it will last or stand up to the famous Brubeck numbers of the past, though, is something to ponder when you sample this quartet session. An all-Brubeck program of never-recorded new pieces (although the piece entitled "Marian McPartland" beat the McPartland/Brubeck duo version by only a couple of months), So What's New finds Brubeck in a friskier mood than in his previous, somewhat autumnal Telarcs, even willing to take us back to the bombs-away block-chorded Brubeck of the '50s and '60s on "It's Deja-Vu All Over Again." As an improvising pianist, he continues to be on his toes, sometimes falling back upon patented devices like those wide-screen moving tremolos, yet always finding interesting paths to develop. Yet while the Brubeck composition style and taste are felt throughout, very few of his themes or conceptions stay in the mind; the McPartland tune and another fine jazz waltz, "Waltzing," are notable exceptions. Bobby Militello's alto work is, as a whole, fairly generic, although he has some thrusting, aggressive moments, and Jack Six and Randy Jones continue to build a solid rhythmic foundation. Though not his best, So What's New is ample testimony to Brubeck's vitality in his Indian summer.
Review by Richard S. Ginell