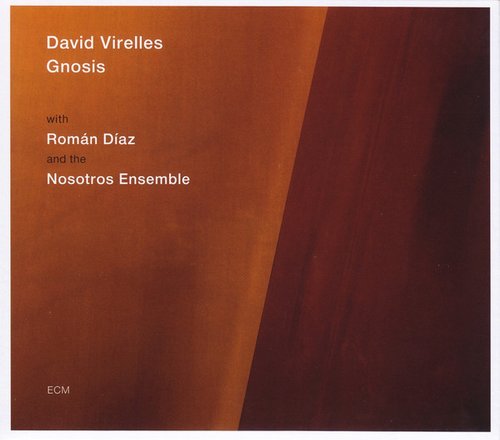 Artist:
David Virelles
Album:
Gnosis
Genre:
Modern Creative, Avant-Garde Jazz
Label:
ECM Records
Released:
2017
Quality:
FLAC (tracks+.cue)
Tracklist:
Del Tabaco y el Azucar (Virelles) - 4:01
Fititi Nongo (Virelles) - 2:24
Lengua I (Virelles) - 3:27
Erume Kondo (Virelles) - 2:03
Benkomo (Virelles) - 5:25
Tierra (Virelles) - 6:16
De Ida y Vuelta I (Virelles) - 3:43
Lengua II (Virelles) - 1:35
De Ida y Vuelta II (Virelles) - 2:33
Nuna (Virelles) - 2:40
Epilogo (Virelles) - 1:56
Dos (Virelles) - 4:04
Caracola (Virelles) - 1:28
Visiones Sonoras (Virelles) - 1:19
De Portal (Virelles) - 2:36
De Tres (Virelles) - 0:41
De Cuando Era Chiquita (Virelles) - 2:50
De Coral (Virelles) - 3:16
DOWNLOAD FROM FILECAT.NET >>>
Personnel:

David Virelles - piano, marímbula, background vocals
Román Díaz - lead vocals, percussion (bonkó enchemiyá, ekón, nkomos, erikundi, itones, nkaniká, marímbula, claves, mayohuacán, pilón, carapacho de jicotea, coconut shells)
Allison Loggins-Hull - flute, piccolo
Rane Moore - clarinet, bass clarinet
Adam Cruz - percussion (steel pan, claves)
Alex Lipowski - percussion (orchestral bass drum, temple blocks, bongos, gong)
Matthew Gold - percussion (marimba, glockenspiel)
Mauricio Herrera - percussion (ekón, nkomos, erikundi, claves), background vocals
Thomas Morgan - double bass
Yunior Lopez - viola
Christine Chen, Samuel DeCaprio - violoncello
Melvis Santa - background vocals
Gnosis marks pianist, composer, and percussionist David Virelles' third release for ECM. After two earlier, more conventional jazz outings -- Motion (Justin Time, 2009) and Continuum (Pi Recordings, 2012) -- Virelles began to actively engage what dictated his musical pilgrimage with the glorious Mboko for ECM in 2014, bridging and highlighting the rich, diverse, and primal Cuban musical traditions alongside avant-jazz.
Gnosis was originally written and performed in 2015. It was jointly presented by The Music Gallery, Arraymusic, and Lula Music & Arts as a work of complex yet accessible tones and timbre, colors, silences, and textures, and spoke of transculturation and traditions. Gnosis was recorded a year later with production by ECM label head Manfred Eicher. The 14-piece ensemble assembled here is used more often than not in parts and pieces. Once more, Virelles has engaged the talents of vocalist and percussionist Roman Diaz on the date. Also present are bassist Thomas Morgan, clarinetist Rane Moore, flutist Allison Loggins-Hull, the celebrated Nosotros Ensemble (percussionists), playing mostly drums and instruments of Afro-Cuban heritage, a string trio, and a chorus of four backing vocalists.
As a work, Gnosis is at once both exploration and discovery. All of its 18 individual pieces are (mostly) short. Opener and intro "Del Tabaco y El Azúcar" is a strategically articulated pianistic exploration with accompaniment by the percussion ensemble and Morgan, who adds ballast and centrality. The Afro-Cuban piano and percussion groove that introduce "Fitití Ñongo" is a dance -- complete with sleight of hand montunos and circular rhythms. "Lengua I" is the first of many solo piano pieces that appear incidentally throughout the album. Diaz asserts his voice as the guiding light of the all-too brief "Erume Kondó." "Tierra" commences mysteriously with piano, percussion, and flute in a questioning melodic line atop a repetitive rhythm before clarinet, marimba, congas, and bata drums gradually elongate the phrase; mutating into almost swinging jazz improvisation before breaking out completely in its final third -- and never loses its groove. Virelles puts an ellipsis on that piece with the elegant, intimate solo "De Ida y Vuelta, Pt. 1." The seemingly completely free "Visiones Sonoras" is a chamber piece that reveals the influence of the New York School of composers on Virelles as well. No matter which side of the pianist's musical persona is articulated on Gnosis, it comes across in toto as a balanced work in its entirety, full of interrogation and erudition. It may not be an "easy" work to absorb initially, but with repeated listening, it become far less oblique; one need only use the episodic piano solos as guides. Virelles wrote Gnosis not as a statement but as a series of plausible yet labyrinthine questions. Its beauty lies in that fact that though his questions have purpose and direction, they are, by their very nature, unanswerable.
Review by Thom Jurek