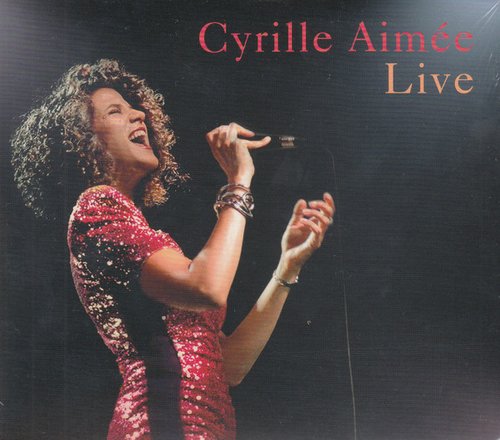 Artist:
Cyrille Aimee
Album:
Live
Genre:
Vocal Jazz
Label:
Mack Avenue Records
Released:
2018
Quality:
FLAC (tracks+.cue)
Tracklist:
It's a Good Day (4:31)
Nuit blanche (5:56)
Si tu vois ma mere (6:12)
Live Alone and Like It (8:09)
Wanna Be Startin' Somethin' (4:52)
Off the Wall (5:11)
Day by Day (3:57)
It's Over Now (Well You Needn't) (7:50)
Three Little Words (4:13)
Each Day (6:57)
DOWNLOAD FROM FILECAT.NET >>>
Personnel:

Cyrille Aimee - vocals, Boss RC-505 loop station
Adrien Moignard - acoustic guitar
Michael Valeanu - electric guitar
Dylan Shamat - acoustic bass
Dani Danor - drums
This hour-long session captured at Greenwich Village's Le Poisson Rouge in August 2017 isn't a first for vocalist Cyrille Aimée—she's previously released live albums from Smalls and Birdland—but it is a last, her final date with long-time bandmates Dylan Shamat (bass), Dani Danor (drums) and dual guitarists Michael Valeanu and Adrien Moignard. As always, Aimeé's buoyant blend of Gallic charm, irrepressible joie de vivre and Gypsy-inspired verve is in full evidence, as are her impressive scat skills.
The 10-track playlist draws heavily on her two most recent studio recordings, including Sondheim's sage ode to singlehood, "Live Alone and Like It," Michael Jackson's "Off the Wall" and effervescent readings of "Three Little Words" and "It's a Good Day." Aimée adds Sidney Bechet's tender "Si Tu Vois Ma Mère"; a frolicsome rendering of Axel Stordahl, Paul Weston and Sammy Cahn's "Day by Day"; and another Jackson hit, the sinuous "Wanna Be Startin' Somethin'." Most potent: a superbly multi-shaded, eight-minute "Well, You Needn't" that proves a rousing showcase for all five musicians (its repetitive "it's over now" is duly felicitous).
Throughout, the bravura, often interlaced guitar work of Valeanu and Moignard remains as compelling, and as vital, as Aimeé's vocals. She closes with her and Valeanu's "Each Day," which contains the apt sentiment that "each day brings someone new that lights up your way." It's tantalizing to anticipate where her future days will lead. Still, we'll miss those blazing guitars.
Review by Christopher Loudon