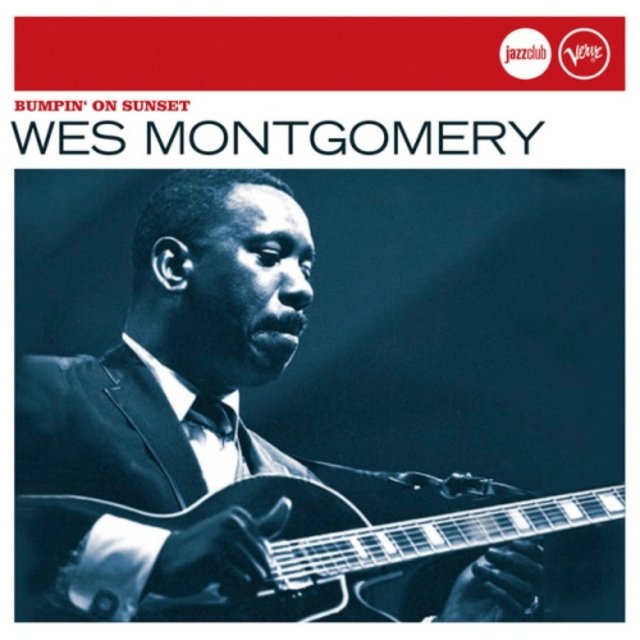 Artist:
Wes Montgomery
Album:
Bumpin' On Sunset
Genre:
Hard Bop, Soul-Jazz
Label:
Verve Records
Released:
2007
Quality:
FLAC (tracks+.cue)
Tracklist:
A Day in the Life 05:45
The Shadow of Your Smile 02:18
Up and at It 04:15
Bumpin' on Sunset 04:50
The Joker 03:26
Movin' Wes, Part 1 03:30
Impressions 05:04
Milestones 04:10
The Surrey With the Fringe on Top 05:19
Angel 02:48
Sunny 04:04
O.G.D. (Road Song) 06:06
Tequila 03:21
13 (Death March) 05:21
Caravan 02:38
The Other Man's Grass Is Always Greener 02:32
What the World Needs Now Is Love 04:59
DOWNLOAD FROM FILECAT.NET >>>
Once again, the Japanese prove that they know how to assemble compilations infinitely better than we do here in the United States -- even though there is no particular reason for it, since Universal, who owns the rights to all this material by Wes Montgomery, operates here in the U.S as well as in Japan. This whopping 17-cut collection by über guitarist Montgomery will be of interest not only to hardcore fans (for its amazing sound) but also for the beat hunters, soul-jazz fans, and groove collectors everywhere. The material was all recorded between 1964 and 1968. It features Montgomery during one of his most creative periods, when he was working at making his own brand of sophisticated soul-jazz marketable to a larger orchestra -- sometimes to the chagrin of dedicated hard bop fans. The experimentation, in terms of material as well as production, is staggering as evidenced here. Some of the players backing Wes include trombonist Urbie Green, drummer Grady Tate, conga legends Ray Barretto and Candido, percussionist Willie Bobo, pianist Herbie Hancock, bassists Richard Davis and Ron Carter, vibraphonist Mike Manieri, flutist Hubert Laws, organist Jimmy Smith, and the Miles Davis rhythm section of Wynton Kelly, Paul Chambers, and drummer Jimmy Cobb, just to name a few. He is also featured in the company of arrangers Don Sebesky, Oliver Nelson, and on a 1964 recording and arrangement of Duke Ellington's and Juan Tizol's "Caravan," by Johnny Pate! There are many hits here including Montgomery's signature cover of Lennon and McCartney's "A Day in the Life," and Bobby Hebb's "Sunny," as well as Gary McFarland's moody "13 (Death March)." Check his takes on Richard Rodgers' and Lorenz Hart's "Surrey with the Fringe on Top" and Burt Bacharach's and Hal David's "What the World Needs Now." Virtually every cut on this 70-minute set is dynamite and showcases Montgomery at his groove-laden peak. It may be pricey, but it's the single-disc collection of his work that is most desirable by far.