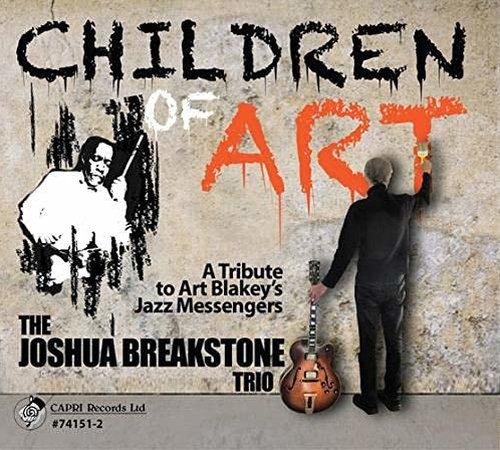 Artist:
The Joshua Breakstone Trio
Album:
Children of Art: A Tribute to Art Blakey's Jazz Messengers
Genre:
Mainstream Jazz, Cool
Label:
Capri Records
Released:
2018
Quality:
FLAC (tracks+.cue)
Tracklist:
The Witch Doctor (Morgan) - 8:01
Splendid (Davis) - 5:43
Holy Land (Walton) - 9:48
El Toro (Shorter) - 5:33
Lonely Woman (Silver) - 7:39
Stablemates (Golson) - 6:34
Breakthrough (Mobley) - 5:25
Children of Art (Breakstone) - 8:42
DOWNLOAD FROM FILECAT.NET >>>
Personnel:

Joshua Breakstone - guitar
Eliot Zigmund - drums
Martin Wind - bass
When last heard from, guitarist Joshua Breakstone was exploring the music of legendary jazz pianists with his Cello Quartet on 88 (Capri Records, 2016). On this album he is joined by double bassist Martin Wind (whose credits include several recordings with drummer Matt Wilson as well as dates as leader) and drummer Eliot Zigmund (who is known for his tenure with pianist Bill Evans, among others, plus his own albums) for a conventional guitar trio. But the repertoire is anything but conventional; in celebration of drummer Art Blakey's 100th birthday, most of the tracks are tunes composed (although not necessarily written while in the band) by veterans of his long-running band the The Jazz Messengers, one of hard bop's premier ensembles.
Blakey was a legendary talent scout—recruiting musicians gifted as both players and composers—and the selections here bear that out. There are a couple of obvious choices that were overlooked—pianist Bobby Timmons' "Moanin'" was arguably the band's greatest hit, and Dizzy Gillespie's "A Night in Tunisia" was a touchstone in the early years. But saxophonist Benny Golson's swinging "Stablemates" (one of his best-known tunes, but never actually recorded by the Jazz Messengers) and pianist Horace Silver's lyrical ballad "Lonely Woman" (also never recorded while Silver was in the band, and featuring a lovely arco bass solo) are nearly as iconic.
Trumpeter Lee Morgan's "The Witch Doctor"—from The Witch Doctor (Blue Note Records, 1968)—leads off the set with a classic hard bop line, including dramatic stops. Wind and Zigmond trade eights during the solo section. Pianist Cedar Walton's "Holy Land" is a lyrical tune featuring unaccompanied guitar during the head, joined by the rhythm section for a low-key exposition. Saxophonist Wayne Shorter's "El Toro"—from The Freedom Rider (Blue Note Records, 1964)—is a Latin tune which is more straight-ahead than his later music, but still shows a distinctive compositional voice. Saxophonist Hank Mobley's "Breakthrough" demonstrates his compositional skill (underrated at least as much as his playing).
Breakstone's original title tune is a ballad employing the hard bop harmonic language of the Jazz Messengers selections. It ends the album in a reflective mood. Appropriate for a tribute, as well as a reminder that Blakey's music was not all up-tempo flag-wavers.
Review by Mark Sullivan