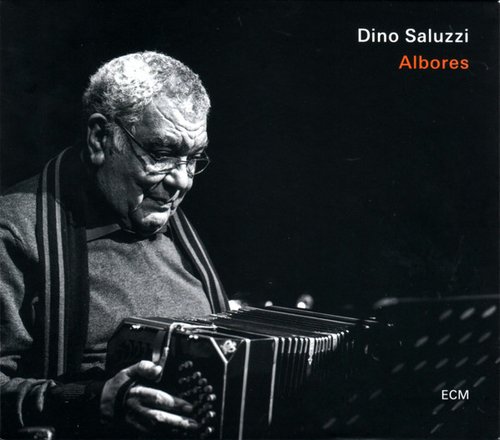 Artist:
Dino Saluzzi
Album:
Albores
Genre:
World Fusion
Label:
ECM Records
Released:
2010
Quality:
FLAC (tracks+.cue)
Tracklist:
Adios Maestro Kancheli (Saluzzi) - 3:56
Ausencias (Saluzzi) - 4:59
Segun me cuenta la vida - Milonga (Saluzzi) - 7:02
Intimo (Saluzzi) - 5:42
La Cruz del Sur (2da cadencia) (Saluzzi) - 7:44
Ecuyere (Saluzzi) - 6:19
Ficcion (Saluzzi) - 4:36
Don Caye - Variaciones sobre obra de Cayetano Saluzzi (Saluzzi) - 9:27
Ofrenda - Tocata (Saluzzi) - 11:58
DOWNLOAD FROM FILECAT.NET >>>
Albores is composer and master bandoneonist Dino Saluzzi's first solo album since 1988's Andina. That recording, beloved by so many for its solitary approach and reflective pieces, echoed back through the composer's cultural biography as well as his reflections on family, history, and everyday life in early 20th century Argentina. In addition to Kultrum, his 1983 label debut, Andina cemented Saluzzi's reputation as a musical storyteller who worked not in dictated narratives, but through the misty sense impressions of place, presence, and memory. Unlike its predecessors, however, wherein he also played flutes and percussion, the pieces on Albores are performed exclusively on the bandoneon, the large accordion-like instrument capable of delivering different notes depending on whether its bellows are pushed or pulled.
Recorded between February and April at his studio in Buenos Aires, Albores translates as "daybreak." Its title is poignant: It signifies Saluzzi's intention to illuminate, however non-specifically, more experiences from his long life. Strangely, perhaps, it commences with a sorrowful farewell in "Adios Maestro Kancheli." It was composed after the passing of Georgian composer and friend Giya Kancheli in 2019. Back in 2011, Saluzzi, violinist Gidon Kremer, and Kremerata Baltica vibraphonist Andrei Pushkarev performed his music in a 75th birthday tribute on ECM titled Giya Kancheli: Themes from the Songbook. The tender yet mournful tune is underscored by the proceeding "Ausencias," a prayerful paean to and admission of loneliness. Its sparse melody and staggered chordal lines are offered with only a bare minimum of lyric adornment. "Segun Me Cuenta la Vida - Milonga" translates as "As Life Tells Me." It's a circular, slowly unfolding poetic dance inspired by Jorge Luis Borges' evocation of the power of memory in early 20th century. It's one of two pieces inspired by the author here; the other is "Ficcion," titled after Borges' many short stories wherein seemingly unrelated tensions emerge from the senses to intersect and inform one another. "Intimo" offers a stark, moving recollection in the Buenos Aires springtime of Saluzzi's youth. "La Cruz del Sur" was inspired by the second stanza in the tenth poem of Jose Hernandez's Gaucho Martin Fierro about Argentine cowboys breaking horses. "Don Caye – Variaciones Sobre Obra de Cayetano Saluzzi" pays homage to the music, inspiration, and example of Saluzzi's famous father. He quotes from several of the elder's compositions in acknowledging the role of family in his own artistic life. Albores closes with "Ofrenda - Tocata," an in-the-moment improvised reflection on mystery: In music, in the spiritual life, and in the artist's faith in what emerges from the soul's depths spontaneously. An exercise in haunted beauty from beginning to end, Albores depicts the process of discovery as fluid, evolutionary, undying. This recital intimately portrays Saluzzi's total immersion in the world of sound and his experience in it as the connective tissue of his life.
Review by Thom Jurek