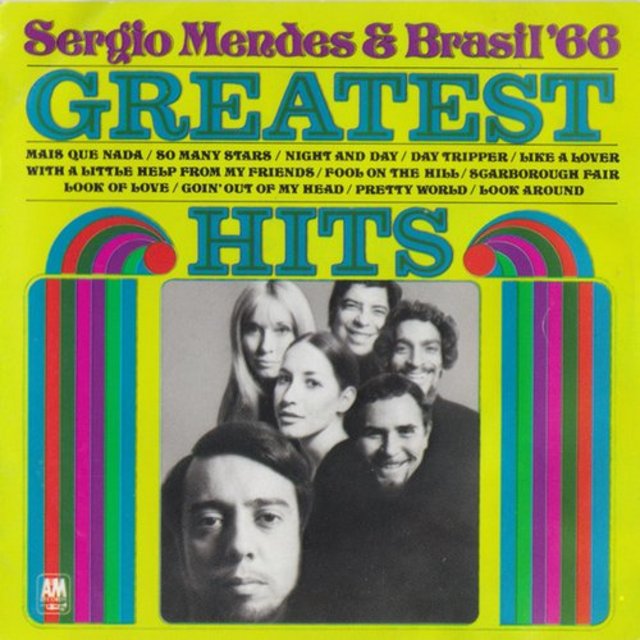 Artist:
Sergio Mendes & Brasil '66
Album:
Greatest Hits
Genre:
Bossa Nova, Latin Jazz
Label:
A&M Records
Released:
1970/1987
Quality:
FLAC (tracks+.cue)
Tracklist:
Mas Que Nada (2:42)
Scarborough Fair (3:22)
With a Little Help from My Friends (2:38)
Like a Lover (3:55)
The Look of Love (2:45)
Night and Day (3:10)
Fool on the Hill (3:19)
Going Out of My Head (3:05)
Look Around (3:05)
So Many Stars (4:30)
Day Tripper (3:09)
Pretty World (3:17)
DOWNLOAD FROM FILECAT.NET >>>
Released along with a slew of other A&M greatest-hits collections, 1970's Greatest Hits takes listeners through a dozen Sergio Mendes & Brasil '66 tunes from the albums Herb Alpert Presents through Crystal Illusions. Not all of these were hits -- indeed, not all of them were singles -- and they are not representative of the wide range of Brazilian material that Mendes cut during this period. But listeners do get a good idea of how Mendes' winningly sexy blend of American female voices, simplified bossa nova rhythms, and lavish Dave Grusin orchestrations captivated mainstream America in the late '60s. Look Around receives by far the most attention, with five tracks -- which is only fitting, since in retrospect it appears to be Mendes' most irresistibly memorable album. For a more comprehensive overview of Sergio Mendes on CD, though, Classics, Vol. 18 is a better bet.
Review by Richard S. Ginell