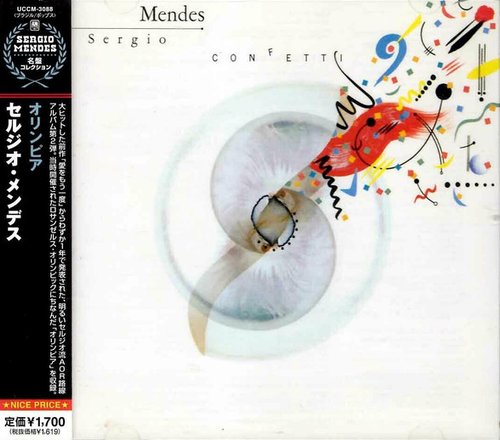 Artist:
Sergio Mendes
Album:
Confetti
Genre:
Latin Jazz
Label:
A&M Records
Released:
1984/2008
Quality:
FLAC (tracks+.cue)
Tracklist:
Olympia (Mann-Weil) - 5:27
Say It with Your Body (Mann-Weil-Bettis) - 4:32
Let's Give a Little More This Time (Mann-Weil) - 3:43
The Sound of One Song (Lins-Martins-Weil) - 3:25
Alibis (Snow-Macaulay) - 4:03
Dance Attack (Freeman-Batteau) - 3:56
Kisses (Lins-Martins-Bergman-Bergman) - 3:25
Real Life (Snow-Alfonso) - 4:00
Morrer de Amor (To Die of Love) (Castro-Neves-Fiorini) - 3:31
DOWNLOAD FROM FILECAT.NET >>>
His recording career resurrected by a pop hit single, Sergio Mendes immediately went back into the studio for more of the same -- which was not exactly the news that his Brazilian and jazz audiences wanted to hear. With heavy input from songsmiths Barry Mann and Cynthia Weil (the composers of "Never Gonna Let You Go"), Confetti is riddled with dance-pop and formula ballad fodder, anonymously executed by Mendes and his L.A. session players. The featured single "Olympia," written for the 1984 Los Angeles Olympic Games, sounds like a beer commercial. Even Ivan Lins' "The Sound of One Song" is wrecked by a much-too-cute children's choir, although Lins' "Kisses" fares considerably better with Gracinha Leporace on vocals and a Dave Grusin string chart. Stuck in the go-for-the-gold 1980s, this record can be bypassed.
Review by Richard S. Ginell