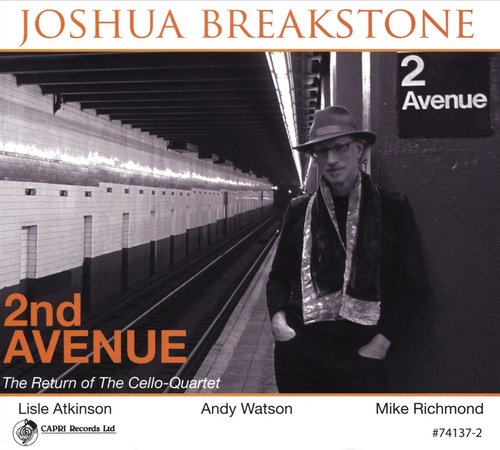 Artist:
Joshua Breakstone
Album:
2nd Avenue
Genre:
Mainstream Jazz, Cool
Label:
Capri Records
Released:
2015
Quality:
FLAC (tracks+.cue)
Tracklist:
Thingin' (Konitz) - 9:33
Home (C.Adderley) - 8:48
I'm an Old Cowhand (Mercer) - 7:01
I Wish I Knew (Warren-Gordon) - 6:07
Evergreenish (Gordon) - 7:08
The Lamp Is Low (Shefter-Ravel-Paris-De Rose) - 5:24
Hit It (Atkinson) - 9:25
My Conception (Clark) - 8:46
2nd Ave: Blues for Imahori (Breakstone) - 9:16
DOWNLOAD FROM FILECAT.NET >>>
Personnel:

Joshua Breakstone - guitar
Lisle Atkinson - bass
Andy Watson - drums
Mike Richmond - cello (#1-3,5,7)
For decades, guitarist Joshua Breakstone has been a reliable purveyor of light, elegant bebop. On his last two albums for the Capri label, including this new offering, 2nd Avenue, he has successfully experimented with a cello quartet that expands his métier into proper chamber bop. Because there are precious few forebears within this approach, Breakstone has now twice taken songs from the obscure 1960 LP The Soul Society by Sam Jones (who also played on the best-known cello-bop tune, "Work Song" by Cannonball Adderley). By using bassist Lisle Atkinson to bow the lead lines while cellist Mike Richmond plucks behind him, Breakstone offers a rendition of "Home" that is faithful to Jones' original. Richmond, like Jones, was originally a bassist who branched out into cello, and is thus naturally comfortable with pizzicato.
For Breakstone, who favors liquid phrasing and sophisticated interplay, the ability to braid and prance his stringed instrument alongside those of Atkinson and Richmond seems to be a tonic. On Atkinson's "Hit It," he pecks and strums chords behind the bass and cello and then drops a nicely dappled solo that is passed on to Richmond. There is also a segment where the final chords are harmonics first played by the cello, then the bass, then Breakstone.
Aside from replacing drummer Eliot Zigmund with Andy Watson, the personnel here is the same as Breakstone's 2013 disc, With the Wind and the Rain, which featured five trio tracks and four adding Richmond to make the cello quartet. 2nd Avenue flips that equation, with five of the nine played by quartet, including an obscure Dexter Gordon song (that had Sam Jones on bass), "Evergreenish," and a delicious rendition of "I'm an Old Cowhand," which, like the Sonny Rollins and Grant Green versions, turns the novelty into sweet refinement. The best of the trio songs is a luminous treatment of the Sonny Clark ballad "My Conception." But next time let's hope Breakstone goes all-in with this quartet and includes the cello on every song.
Review by Britt Robson