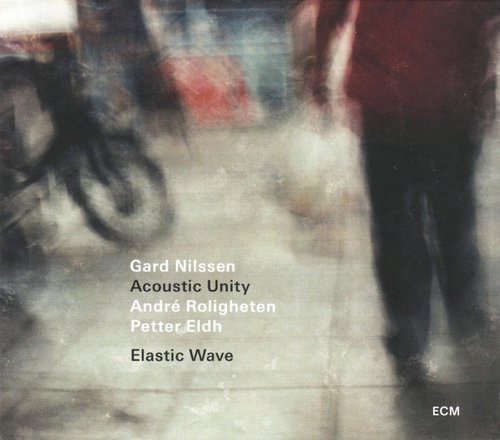 Artist:
Gard Nilssen Acoustic Unity
Album:
Elastic Wave
Genre:
Avant-Garde Jazz, Contemporary Jazz
Label:
ECM Records
Released:
2022
Quality:
FLAC (tracks+.cue)
Altaret (Eldh) - 3:53
Spending Time with Ludwig (Nilssen) - 4:04
Dreignau (Eldh) - 3:14
Influx Delight (Roligheten-Nilssen) - 4:50
Lokket til Jon, og skjerfet til Paul (Nilssen) - 4:27
The Other Village (Roligheten) - 3:31
Boogie (Nilssen) - 4:58
Cercle 85 (Roligheten) - 2:44
Acoustic Dance Music (Nilssen-Roligheten) - 4:08
Til Liv (Roligheten) - 3:51
The Room Next to Her (Nilssen) - 4:55
DOWNLOAD FROM FILECAT.NET >>>
Personnel:

Gard Nilssen - drums
Andre Roligheten - tenor saxophone, soprano saxophone, bass saxophone, clarinet
Petter Eldh - double bass
The last time we heard from Norwegian drummer Gard Nilssen as a leader was with his Supersonic Orchestra—a three-drummer, three-bassist behemoth whose 2020 album, If You Listen Carefully The Music Is Yours (Odin), proved that, contrary to the precedent set by Stan Kenton, it is possible to assemble a big band packing Death Star-level ordnance which nevertheless allows for subtlety, agility and humanity.
Extraordinarily prolific, Nilssen has since 2007 recorded over seventy albums, a fair few of them as leader or co-leader. A handful have been made with big bands: three with the Trondheim Jazz Orchestra, one with Zanussi Thirteen, one with Supersonic. But mostly, Nilssen has recorded with small groups, such as his trios Bushman's Revenge, Amgala Temple and Acoustic Unity.
Nilssen formed Acoustic Unity with fellow Norwegian, reed player Andre Roligheten and Swedish bassist Petter Eldh in 2014, and the group debuted the following year with Firehouse (Clean Feed). Its third album, To Whom Who Buys A Record (Odin), was released to international acclaim in 2019.
The pandemic seems scarcely to have caused Nilssen to skip a beat and in summer 2022 he returns with Acoustic Unity's fourth album, Elastic Wave, recorded in 2021. The founding lineup, all of whom were part of the aforementioned If You Listen Carefully The Music Is Yours, which Nilssen composed and arranged in partnership with Roligheten, still stands. And what a joy it continues to be. All three members compose, and the all-originals Elastic Wave moves seamlessly between pastoral, vaguely folkloric material, jumpy free-improv, ruminative balladeering, and tenor saxophone-led romping which evokes memories of Sonny Rollins' late-1950s' trios.
Roligheten, with whom the force most certainly also resides, is mainly heard on tenor, but also plays soprano and bass saxophones and clarinet, and, on one track, tenor and soprano simultaneously in the manner of Rahsaan Roland Kirk. It all stacks up to a great album.
Review by Chris May