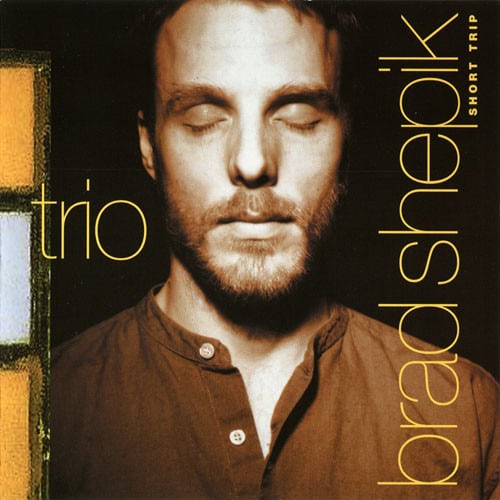 Artist:
Brad Shepik Trio
Album:
Short Trip
Genre:
Guitar Jazz
Released:
2001
Quality:
APE (image+.cue)
Tracklist:
Lupe (5:40)

Non, Si Si (7:34)

Tuck On In (5:51)

Short Trip Back (7:30)

The Tiger (6:37)

Pilgrimage (5:09)

Toni Tune (2:57)

Squall (4:21)

Karedok Luenca (4:39)
DOWNLOAD FROM FILECAT.NET >>>
On Short Trip, New York City guitarist Brad Shepik seems out to prove that he is far more than a one-trick pony irrevocably wedded to Balkan and Middle Eastern-influenced jazz. Of course, Shepik has always demonstrated a deep knowledge of the jazz guitar tradition, and even his work with the Commuters -- while driven by Middle Eastern scales and rhythms -- has an unmistakably strong jazz sensibility. Yet this is the most straight-ahead jazz Shepik has yet recorded as a leader. The liner notes by Dave Douglas seem to anticipate a bit of grumbling from those who might expect a Balkan groovefest; Douglas admonishes listeners to forget about "all those styles" and enjoy the music on its merits. And those merits are, in fact, considerable, particularly for anyone who finds pleasure in the vibrant and intimate sounds of a skillful post-bop (pardon the stylistic reference) guitar trio. The ensemble, featuring master drummer Tom Rainey and supple bassist Scott Colley, swings and grooves with grace through the program of mainly subtle and understated tunes, all but one of which are Shepik originals. The guitarist displays a warm-toned mastery of his axe throughout, seamlessly shifting from single-note runs to chords and back again while generally keeping the improvisations rooted not far afield from his appealing melodies. Shepik has performed in some unusual instrumental configurations in other bands but has usually shared the so-called front line with another melodic instrument, so perhaps the greatest test of Short Trip is how well he pulls off a set accompanied only by a traditional bass-drums rhythm section. The answer, in a word: admirably. The album is a success not only due to Shepik's chops, but also to his compositional variety. The spirited opener "Lupe" is followed by the gentle and lovely "Non, Si Si," and on the third track, "Tuck on In," Shepik slips and slides over a shuffling boogie groove. As the album progresses, he pulls at the structures a bit more, stretching the slow waltzing quasi-title track "Short Trip Back" into the album's lengthiest excursion and, on "The Tiger," leading the trio through various rhythmic and melodic changes (settling for a while into a loose groove in seven that begins to hint at the Commuters). Approaching the album's conclusion, the brief "Tony Time" mixes free jazz rhythms and fusion riffs, and the final track, "Karedok Luenca," is an arrangement of a traditional Sundanese song from West Java. The sole non-Shepik tune on the CD, "Karedok Luenca" might actually sound the most Shepik-like to some, back in the type of exotic Commuters territory where the guitarist's fans usually expect to find him. Short Trip feels like a bid for the type of recognition that John Scofield and Bill Frisell have achieved among contemporary jazz listeners and the mainstream jazz press. On the strength of the fine Short Trip, Shepik should get it.