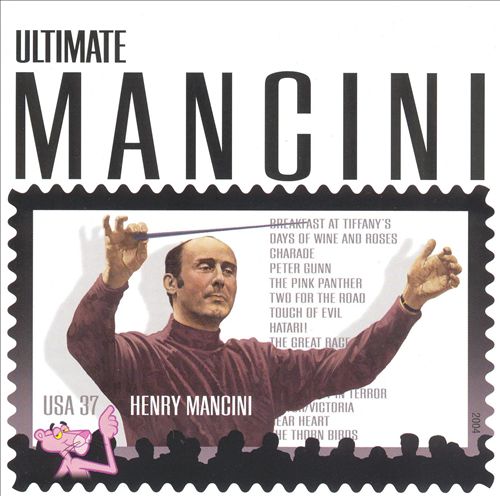 Artist:
Henry Mancini
Album:
Ultimate Mancini
Genre:
Jazz-Pop, Easy Listening
Label:
Concord Records
Released:
2004
Quality:
APE (image+.cue)
Tracklist:
The Pink Panther Theme
Charade
Two for the Road
Moon River (Featuring Stevie Wonder&Take6)
Moment to Moment
Days of Wine and Roses

Peter Gunn Suite:
Peter Gunn Theme (Featuring Tom Scott)
Dreamsville (duet with Kenny Scott)
Dear Heart
The Thorn Birds Theme
Anywhere the Heart Goes (Meggie's Theme)
Mr. Lucky (Featuring Joey DeFrancesco)
Whistling Away the Dark

Movie Medle:
Life in a Looking Glass
Crazy World
It's Easy to Say
Music on the Way

Bonus Track:
Soldier in the Rain

Henry Mancini was easily one of the greatest composers for film soundtracks, so putting together a collection of 17 songs nominated for various awards (Grammy, Golden Globe, or Academy Awards) was easy. But finding the proper mix of musicians was important. His daughter, Monica Mancini, is a talented singer in her own right, so she was an obvious choice. And it was only natural to invite tenor saxophonist Plas Johnson to reprise his most famous solo in "The Pink Panther Theme," which he recorded with Mancini for the original soundtrack. For the most part, Mancini's arrangements are utilized, but there are some twists. Stevie Wonder is featured on harmonica with the vocal group Take 6 in the pretty ballad "Moon River," while organist Joey DeFrancesco shines in the breezy "Mr. Lucky." But it is Monica Mancini who makes the biggest impression (along with her father's music, of course). Her sensual rendition of "Moment to Moment," and her lightly swinging duet with singer Kenny Rankin of "Dreamsville," both of which are complemented by Tom Scott's superb alto sax, make it apparent that she inherited her father's musical genes. Among the several arrangements contributed by Patrick Williams, his gorgeous chart for Monica of "Dear Heart" features the singer backed mostly by George Doering's sensitive acoustic guitar. As Donald Fagen of Steely Dan puts it in his brief note to the CD: "All bow before the High Priest of Hollywood Cool!" In other words, fans of Henry Mancini should snap up this rewarding CD right away.