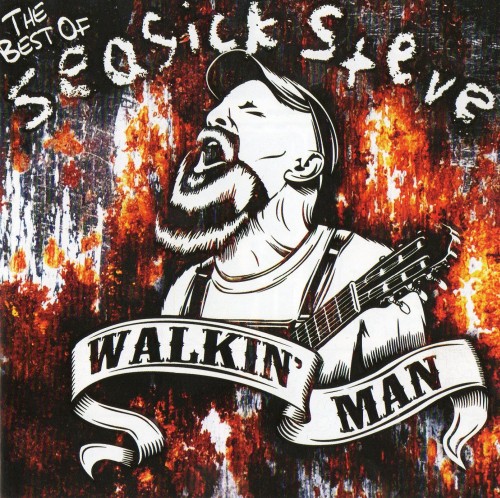 Artist:
Seasick Steve
Album:
Walkin' Man (The Best Of Seasick Steve)
Genre:
Modern Acoustic Blues/Modern Electric Blues
Label:
Rhino
Released:
2011
Quality:
FLAC (image+.cue)
Tracklist:
Dog House Boogie 03:31
Cheap (Album Version) 04:05
Started Out With Nothin 03:38
Diddley Bo 03:51
Thunderbird 04:16
Happy Man 03:31
Cut My Wings 03:23
Treasures 03:54
St. Louis slim 03:37
8 Ball (Album Version) 03:41
Don't Know Why She Love Me But She Do 03:30
Walkin Man 02:42
You Can't Teach An Old Dog New Tricks 03:36
Fallen Off A Rock 04:36
The Banjo Song 03:30
Never Go West 03:30
My Donny 04:02
Prospect Lane 02:19
Xmas Prison Blues (Album Version) 04:16
That's All 04:39
Dark 03:55
DOWNLOAD FROM FILECAT.NET >>>
For a start this two disc set comes in a very nice embossed silver and colour wash slip case, and it looks very good.THe booklet is a summary of all of his albums, covers photos and tracl listings.So to what this set offers firstly the CD,it's a very generous 21 tracks worth over 78 minutes playing time of his best songs, they sound really great and there well have been some remastering but certainly have lost nothing if they have.Songs from every album, but the set listing is very well done and the whole disc is full of real treasures by this most carismatic of blues based artists,opening with 'Dog House Boogie' that set his success off when he first appeared on Jools Holland's Later show, through tracks like 'Diddley Bo', 'Happy Man', '8 Ball', and of course the title track 'Walkin' Man'.Sure I've got the albums but this is a superb was to get them afresh, or if you have nothing by the great man here's one fantastic place to start your collection. This alone is easily worth five stars, but hold on there's more. The second disc is a DVD, and this contains a full gig at the Brixton O2 Acadamy, nineteen songs with a couple of extra musicians including some wonderful double bassplayed by Amy LaVere and some extra guitar and percussion from I believe Steve's son Paul Martin Wold, who also sings one of his songs as well.Of course we musn't forget Steve's drummer DAan Magnusson, who's a key bpart of Steve's sound both live and in the studio,this live set is worth the price of the set alone,but wait there's even more.Yes , we also get the documentary BBC made of him going back to his Mississippi roots.Many fans have been after this since it was first shown a few months ago, so here it is, and one of those you could watch again and again, very rare in many docu type films.
So here you have without doubt a fantastically enjoyable two disc set, that will bring pleasure and get those feet tapping for a long time ahead. Seasick Steve is a great bluesman of his time , the upholder of a great Mississippi Hillside sound of the blues but also taking the music forward into a new generation, absoltely unmissable, and one of the best releases of the year, waste no time order this now or get it on your Christmas list.