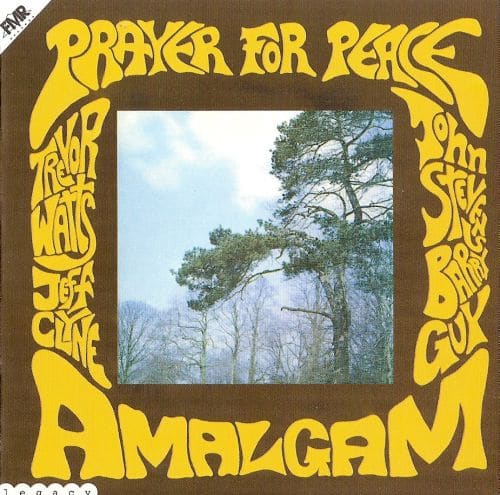 Artist:
Amalgam
Album:
Prayer For Peace
Genre:
Free Jazz
Label:
FMR Records
Released:
1969/2002
Quality:
FLAC (tracks+.cue)
Tracklist:
Tales Of Sadness
Judys' Smile I
Judys' Smile II
Judys' Smile III
Prayer For Peace
DOWNLOAD FROM FILECAT.NET >>>
In the late 60s, British jazz was in a state of flux, pulling itself into strange new shapes influenced by the U.S. avant garde, European improvisation and rock and giving birth to bands such as Keith Tippett's Centipede, Nucleus, and Trevor Watts' Amalgam.
Alto saxophonist Watts was the driving force behind the legendary Spontaneous Music Ensemble, alongside drummer John Stevens. While that outfit took post Coltrane jazz further out into the spiky landscapes of what was later to be called 'free improvisation', Amalgam operated in more melodic, less cerebral territory over their thirteen year history.
The 1969 debutPrayer for Peace originally appeared as a double album on the Transatlantic label (home to Brit folkies Pentangle) and featured the trio of Watts, bassist Jeff Clyne plus the now sadly departed Stevens on drums. Though you might expect flat out full on free jazz blowout from such a line up, Prayer for Peace is for the most part a warm, soulful thing, full of space, light and shade.
Watts's fruity alto stylingscarry amagisterial weight derived from Coltrane coupled with some of Albert Ayler's quivering vibrato, though his preference for clear, unbroken melodic line recalls Ornette Coleman. The absence of a chordal instrument isn't felt, partly due to Eddie Offord's lushly atmospheric recording but mostly due to Clyne, whose fat, melodic lines provide warm, unflagging support throughout.
The opening "Tales of Sadness" is a beautiful essay in controlled group improvisation; Clyne and Stevens opt for pulse rather than time under Watts's spare but lovely theme, with Steven's skittering snare decelerating and accelerating. Eventually the rhythm section hits a splashy, restless groove as the alto heads off into abstracted, chopped up phrases. Three takes of "Judy's Smile" show both the trio's differing approaches to the same material and their ability to generate a fearsome amount of swing. Throughout there's a constant three way exchange - these guys have big ears, always on the listen.
For the closing title track Clyne is replaced by Barry Guy, whose warm, buzzing arco bass makes the ideal foil for Watts's plaintive Ayleresque melody. To close, bass and alto circle each other, firing off high pitched harmonics into the ether. Lovely, empathic musicmaking from a fascinating era in Britjazz history. Heady days indeed. -
Peter Marsh, BBC.co.uk