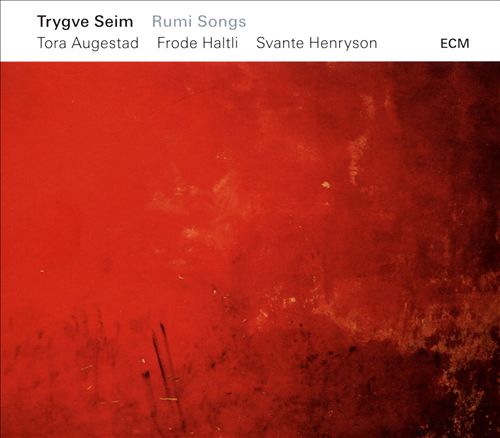 Artist:
Trygve Seim
Album:
Rumi Songs
Genre:
Modern Creative, Avant-Garde, Art Song
Label:
ECM Records
Released:
2016
Quality:
FLAC (tracks)
Tracklist:
In Your Beauty 03:03
Seeing Double 08:37
Across The Doorsill 04:21
The Guest House 05:35
Leaving My Self 06:04
When I See Your Face 06:34
Like Every Other Day 05:35
The Drunk And The Madman 05:42
Whirling Rhythms 02:40
There Is Some Kiss We Want 05:38
DOWNLOAD FROM FILECAT.NET >>>
Norwegian saxophonist Trygve Seim sets the poetry of Jalaluddin Rumi (1207-1273), using the inspired contemporary English-language versions of Coleman Barks and Kabir Helminski as his source texts. Trygve responds both to the musicality of the translations and to Rumi's gifts as a storyteller and with Rumi Songs seems to have invented a new kind of Lieder with a Nordic-Oriental orientation. The line-up is strikingly unorthodox, with each of the quartet members bringing their own musical personalities to the material. Classical mezzo-soprano Tora Augestad is well-known as the leader of her own ensemble Music For A While, and for her numerous music-theatre collaborations with Christoph Mathaler. She finds an intimate tone to convey Rumi's thoughts, underlined by the elegant arrangements and the improvisational input of Seim, Haltli and Henryson.
Norwegian saxophonist Trygve Seim introduces his new quartet and a wide-ranging programme of compositions which draw inspiration from the poetry of Jelaluddin Rumi. With pieces variously influenced by the classical Lieder tradition, by contemporary chamber music, Arab music, Indian music and more, these Rumi Songs resist concise definition. Some of the songs are tightly written, while others incorporate intense and inventive improvisation from bandleader Seim, accordionist Frode Haltli and cellist Svante Henryson. Mezzo-soprano Tora Augestad rises splendidly to the challenge of singing Seim's settings of Rumi, which are based upon English translations of the poems by Coleman Barks and Kabir Helminski. "The adventure," says Trygve, "has been to drive this song cycle in different directions by seeking many of the layers and colours in the poems and using them musically."
With the encouragement of the late soprano singer Anne-Lise Berntsen, Trygve Seim composed his first Rumi Songs in 2003, and he has been developing the project since then, along the way exploring different instrumentation (from voice, church organ and piano to the massed ranks of the Cairo Symphony Orchestra) before settling on the present line-up. In 2013 the full cycle of Rumi Songs was premiered in Østfjold, Norway, and further fine-tuned on tour before the present recording, which was produced by Manfred Eicher at Oslo's Rainbow Studio in February 2015. The project's genesis is described in detail in the album's liner notes.