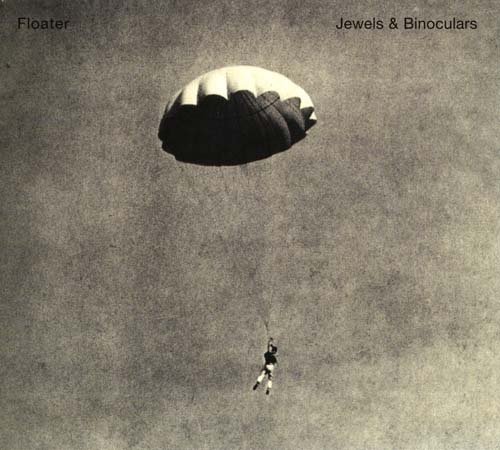 Artist:
Jewels & Binoculars
Album:
Floater
Genre:
Modern Creative, Avant-Garde Jazz
Label:
Ramboy Recordings
Released:
2004
Quality:
FLAC (tracks+.cue)
Tracklist:
Masters Of War (4:54)
Man In The Long Black Coat (8:14)
Farewell Angelina / What Can I Do For You? (7:01)
I Want You (3:29)
The Lonesome Death Of Hattie Carroll (4:23)
All I Really Want To Do (7:03)
Things Have Changed (6:12)
Floater (Too Much To Ask) (5:24)
Tears Of Rage (6:00)
Buckets Of Rain (5:06)
Lay Down Your Weary Tune (2:10)
DOWNLOAD FROM FILECAT.NET >>>
All compositions by Bob Dylan except #9 by Bob Dylan and Richard Manuel
While Bob Dylan's lyrics are the focus of most attention given to his music, his melodic concepts, drawing largely from traditional/folk sources, are underrated. While there are quite a few Dylan tributes, [the Jewels and Binoculars trio is] one of the finest decoders formed for the purpose of exploring Dylan's work [...]
For those who were able to check out this collective's first set of Dylan interpretations (also on Moore's Ramboy label), Floater picks up where its predecessor left off. Namely, Dylan's simple melodies serve as a framework for their improvisations, interpreted with great creativity, imagination, and taste.
While the record concentrates on mostly subdued, reflective moods, it is hardly a snoozer; rather, the participants are chiefly preoccupied with melodic interplay. For instance, while the politicized nature of "Masters of War" is certainly relevant, its potency is more subtly designed, with Moore's forlorn alto brewing alongside Horner and Vatcher. A similar approach emerges on "Tears Of Rage", with Moore's alto being the main vehicle for espousing an almost detached frustration.
Somber moods play a significant role as well. One of the most poignant moments appears on "Main In The Long Black Coat", a jewel from Oh Mercy that utilizes Moore's haunting bass clarinet work amidst Horner's sonorous pizzicato and Vatcher's luminous dulcimer and tasteful percussion. The reflective "The Lonesome Death Of Hattie Carroll" also drips out emotive lines courtesy of Moore's sensitive clarinet. Yet, this melodic interplay also drives the stunning "Farewell Angelina/What Can I Do For You?" and "Lay Down", both highlights due to the beauty and intimacy of Moore's clarinet work, which caresses and honors Dylan's gorgeous themes.
Lest one think that gloomy, dour moods carry the day, Horner's slippery, buzzy lines offer plenty of inspiration. Perhaps the best example of this feeling is "I Want You" with Moore's clarinet flowing freely amidst the churning rhythms. Likewise, the group gets funky on "Things Have Changed" (from the recent soundtrack to The Wonder Boys), with Horner's beefy bass lines and Vatcher's rockish groove prompting some head-shaking. The group also gets somewhat "jazzy" on "All I Really Want To Do", with Horner's dynamic arco meeting Moore's aching alto, or perhaps the most "straightahead" piece, "Floater (Too Much To Ask)", from Love And Theft, featuring more sweet clarinet work from Moore, or finally, Blood On The Tracks' "Buckets Of Rain", with Vatcher's joyous brushwork accenting the group's flair.
The result here is certain to be one of the strongest releases of 2004 and certainly, a no-brainer for those that sought out the previous volume. This intuitive meeting will likely please Dylan fans looking for a fresh vision and might even offer a glimpse of the man's genius previously lost on those who don't "get" Dylan.