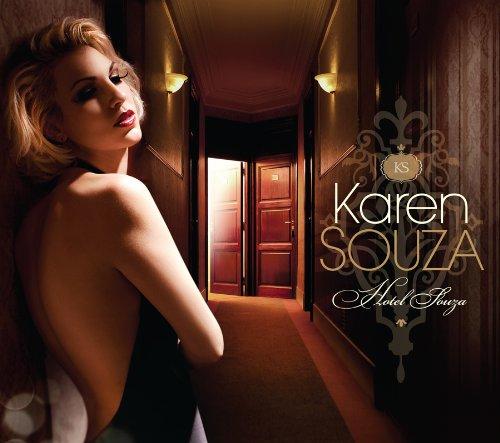 Artist:
Karen Souza
Album:
Hotel Souza
Genre:
Latin Jazz, Bossa Nova, Vocal Jazz
Label:
Music Brokers
Released:
2012
Quality:
FLAC (tracks+.cue)
Tracklist:
Paris (3:47)
Night Demon (2:34)
My Foolish Heart (3:58)
Delectable You (3:22)
Break My Heart (2:42)
I Heard It Through the Grapevine (3:45)
Wake Up (3:56)
I've Got It Bad (4:15)
Full Moon (2:35)
Dindi (4:00)
Lie to Me (3:10)
DOWNLOAD FROM FILECAT.NET >>>
The moment the ultra-smooth orchestra comes misting out of your speakers, you know you're in for an intimate listening experience while sauntering through the Hotel Souza. Never mind the, ooh la la!, half naked head and torso shot of the tempestuous blond centerfold beauty of Ms. Souza in a daring evening gown, nor the gently torrid reverse cover-photo head shot, nor even the slinky come-hither darkened hallway vamp looking meaningfully back at you, as none of that matters: the top-notch arrangements of Joel McNeely and the whisperily sensuous voice of Souza will have you, if you're male, either melting in your chair or howling at the moon and, if you're female, finding a few notions forming in your lovely head regarding the bottom-line game of the sexes.
McNeely, who's worked with Tony Bennett, Peggy Lee, Al Green, and stellar acts, truly is a wonder throughout the CD, displaying consummate perspicacity in an exquisite balance between what's charted and what isn't, a gem of matrixing with not a single note wanting nor excess. And the backing band follows precisely on that aesthetic, with any number of notables present: Larry Koonse, Alan Pasqua, Steve Kujala, and so on, though they're so meticulously woven into the overall ambiance that normally distinctive vocabularies drop out and only the years-proven professionality and laser-like focus remain, making every participant a genuine orchestral adjunct.
That, I think, provides proper back-scatter to now focus on Souza, who hails from Buenos Aires, and thus is imbued with a backbone of Brazilian modes oft detectable, injecting The Great American Songbook, modern standards, and a raft of originals (though you won't for a moment believe they aren't catalogue gems) with essences of bossa, samba, and the welter of styles that has thankfully been infiltrating northern shores. Dindi, for instance, which saw a wistful exuberance in Kimikoh Itoh's sparkling performance, here turns into a prolonged sigh balmy with tropical afternoons as the sun sets and thoughts turn to dreamy expectations of the night. Delectable You, besides being more vivacious, carries a set of Souza-penned lyrics about as perfect as they come, as do all the originals, Break My Heart another pristine exposition.
Ms. Souza, thus, is a triple threat. As a poetess, she understands her territory to perfection; as a singer, she re-establishes West Coast Cool to a Chet Baker level with Mae West unflappability; and as a signature of eros…well, in these politically correct and bizarre times, I'll forego details and say only that were she not a singer, she would be a movie star. Put the three together, and what do you get?