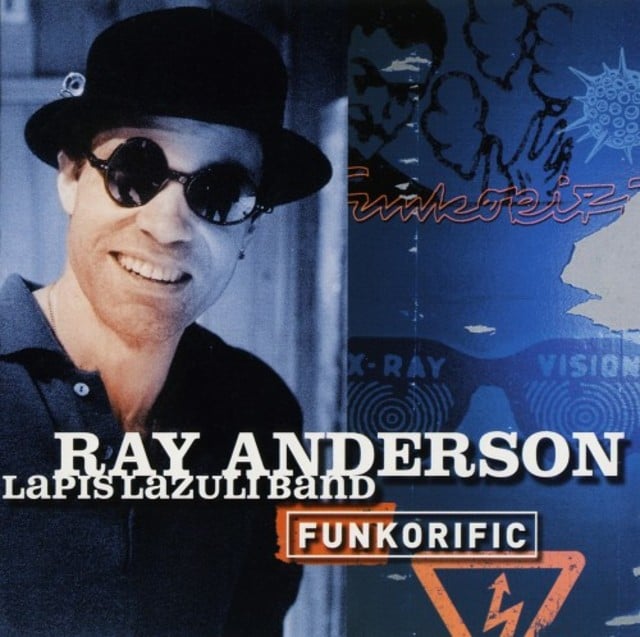 Artist:
Ray Anderson Lapis Lazuli Band
Album:
Funkorific
Genre:
Mainstream Jazz
Label:
Enja Records
Released:
1998
Quality:
FLAC (image+.cue)
Tracklist:
Pheromonical (5:12)
Runnin' Round (5:21)
Mirror Mirror (4:34)
Damaged But Good (5:02)
Hammond Eggs (7:06)
Monkey Talk (4:30)
I'm Not A Spy (6:09)
Funkorific (5:44)
Willie & Muddy (11:00)
DOWNLOAD FROM FILECAT.NET >>>
Personnel:

Ray Anderson - trombone, vocal
Amina Claudine Myers - piano, hammond organ, vocal
Jerome Harris - guitar
Lonnie Plaxico - bass
Tommy Campbell - drums
This seeks to be a good-time record while maintaining the musical intelligence that listeners should expect from Anderson. "Putting the cookies on a lower shelf" can be dangerous if the artists are too busy worrying about public taste to do any real cooking, but it's obvious from the start that the players (Amina Claudine Myers, organ, piano; Jerome Harris, guitar; Lonnie Plaxico, bass; Tommy Campbell, drums) are having a blast themselves. I can't imagine any complaints about anyone's contributions instrumentally. The rhythm team swings, Anderson sounds just great, Myers and Harris shine throughout, and the trombone-organ-guitar ensembles are downright dangerous. The four vocal tracks feature Myers and Anderson solo and in tandem: gutsy, extroverted performances of intelligent lyrics by Jackie Raven. This music is hard to describe but it's natural and infectious, somewhat comparable to Mose Allison, but hotter. The professed intention is to make the listener smile, and it sure works for me. ~ duck backer, jazztimes.com
Trombonist Anderson has assembled quite a quintet for this tribute to the blues, dubbed the Lapis Lazuli Band. Keyboardist Amina Claudine Myers, mostly on organ, electric guitarist Jerome Harris, electric bass guitarist Lonnie Plaxico, and drummer Tommy Campbell are the funkifiers. Anderson and Myers sing on several cuts, sometimes kitschy or jive, but mostly in a good-time spirit. Anderson's trombone playing is always interesting to listen to as he is able to exploit all the smearing, plungered, and wailing techniques of a 'bone to full effect. It's also a treat hearing Myers and Harris getting down in this context. Jackie Raven contributed the lyrics to four of nine tracks, with all the music written by Anderson. Of the vocal cuts, "I'm Not a Spy Blues" is pleading but convincing, and very cute. "Monkey Talk" is the wildest, Anderson wackily scatting up a storm on a hard swinger where Myers is heard on piano. Less enjoyable are the overt pop-funk of "Mirror Mirror" with some good call-and-response singing from Anderson and Myers, while "Damaged But Good," a play on "damaged goods" is a slow, stealthy, late-night blues groove, with Anderson and Myers admitting their faults amidst a wah-wah bridge, and trombone and guitar observing the confessions under a full moon. The instrumental pieces are extra hip. "Runnin' Round" is a hard swinger where trombone lines run behind the bar and contrary to organ pulsations and skating guitar. A long bass intro by Plaxico sets up loping lines with Harris on slide guitar evoking more than just a spoonful of grease during "Willie & Muddy." The coolest groove, "Hammond Eggs," has the band all simmering in one pan, combining unison and contrary melodies, while "Pheromonical" is the most bluesy swinger with subtle organ shadings, and the title track is an amalgam of funk, blues, and swing that is a true showcase for Myers' multi-faceted talents, getting churchy as she is wont to do. While not quite terrific, "Funkorific" is quite enjoyable, a fun loving romp through various phases of blues-cum-jazz expressionism by musicians who feel it in their bones. Not sure if Lapis Lazuli is a one shot - hopefully not, because this band has a deep well to mine.
Review by Michael G. Nastos