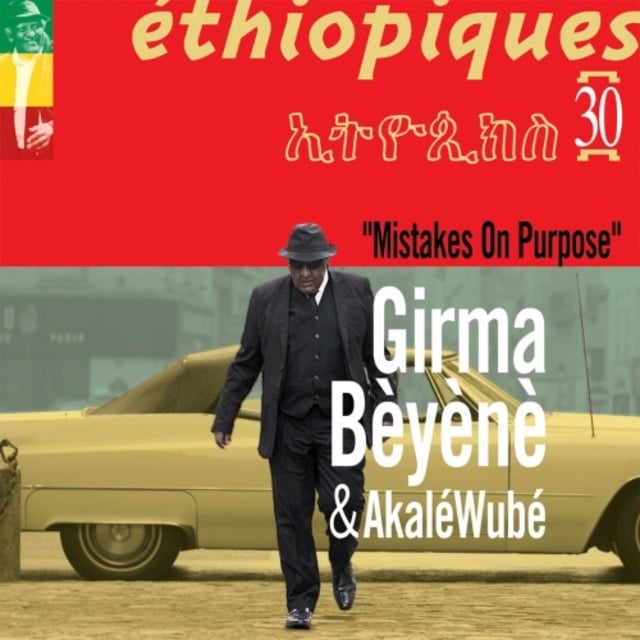 Artist:
Girma Bèyènè & Akalé Wubé
Album:
Mistakes On Purpose
Genre:
Ethnic Jazz, Afrobeat, Funk, World Fusion
Label:
Prado Records/Buda Musique
Released:
2017
Quality:
FLAC (tracks)
Tracklist:
Tewèdjign Endèhu (Ahun Negèrign)
Ené Nègn Bay Manèsh
Muziqawi Silt
Enkèn Yèlélèbesh
Feqer Endè Krar (Yebèqagnal)
Bèmèlkesh Aydèlèm
Mèslogn Nèbèr
Fetsum Fetsum (Tirulegn Tolo)
For Amha
Sét Alamenem
Wub Nat
Mèlèwètesh Menèw
Tsegérèda
Tewèdjign Endèhu (Ahun Negèrign)
DOWNLOAD FROM FILECAT.NET >>>
Personnel:

Girma Bèyènè - piano, vocals
Akalé Wubé:
Etienne de la Sayette - tenor & baritone sax, bass clarinet, flute, organ
Paul Bouclier - trumpet, bugle, krar, glockenspiel, percussions
Loïc Réchard - guitar, organ, percussions
Oliver Degabriele - bass, percussions
David Georgelet - drums

guests:
Florian Pellissier - organs (7, 9, 13), Fender Rhodes (3)
Cyrille Méchin - baritone sax (3), clarinet (13)
Erwan Loeffel - percussions (2-6, 12)
Girma Bèyènè disappeared from the Addis Abeba music scene in 1981. Miraculously, he was invited by the exiled producer Amha Eshèté to tour the US with the Wallias Band and three singers (Mahmoud Ahmed, Gétatchèw Kassa and Wubishet Fisseha). Girma chose to never return back to the military-Stalianian paradise of Ethiopian dictator Menguistou. Another six musicians followed in his steps. The freshly exiled quickly realised that the Ethiopian community in the US was too small and restrained to offer them enough work to get by as full time musicians. What followed was a chaotic life full of odd jobs which increasingly left less and less time for music.
Girma's first return to his dear homeland happened on invitation from the 7th Ethiopian Music Festival of Addis Abeba in May 2008, which was held around a tribute to Girma Bèyènè and some other exiled saxophone players from the 80s (Moges Habte, Tilaye Gèbrè, Tewodros Meteku).
Following that invitation, Girma quietly settled back in Addis for good. It was a discrete affair, considering the huge reputation which he still held in Ethiopia, especially within circles of influential contemporary musicians. Also considering the impressive fan base he garnered with jazz and world music lovers from all around the globe through the publication of the Ethiopiques series, first in line being the members of the band Akalé Wubé.
Those who have never seen Akalé Wubé play live have little idea of the groove we're talking about. They're not about showy musical feats, neither about posed stage antics. They are all about good old, pure grooves, sober and lyrical, the kind to move feet and lighten hearts. They are already three albums in, three records of pure creative devotion to the cause. None of the covers played are copy/pasted, and all their ethio-grooves are revisited with liberty and passion - the best way to pay tribute and give back life to a genre of music and to a musician which has been, for far too long, put aside and forgotten…until now.
Now it is these guys that have listened, appreciated, covered, reinvented and unpretentiously invited Girma Bèyènè … and Girma was totally up for it! An unpredictable meeting that could take any direction, luckily we love risks! Girma Bèyènè featuring Akalé Wubé, or the other way round? In any case it will be a heavyweight match.