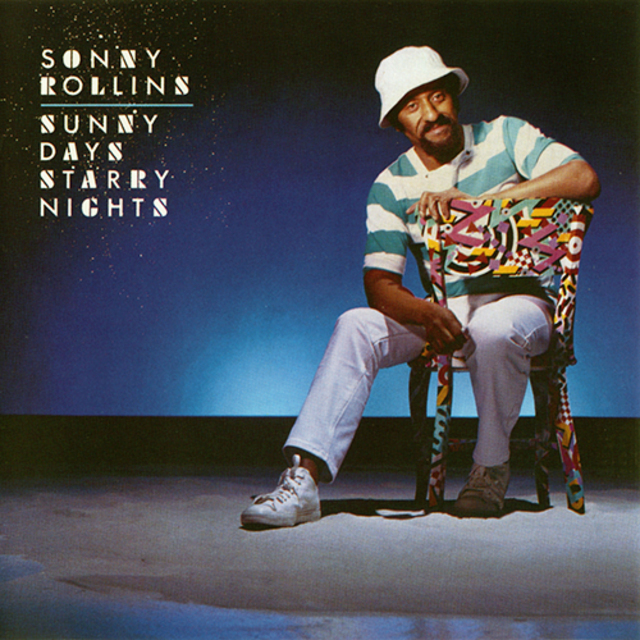 Artist:
Sonny Rollins
Album:
Sunny Days, Starry Nights
Genre:
Hard Bop
Label:
Milestone
Released:
1984
Quality:
FLAC (tracks+.cue)
Tracklist:
Mava Mava (4:34)
I'm Old Fashioned (6:28)
Wynton (8:20)
Tell Me You Love Me (6:16)
I'll See You Again (6:21)
Kilauea (7:00)
DOWNLOAD FROM FILECAT.NET >>>
Personnel:

Sonny Rollins - tenor saxophone
Clifton Anderson - trombone
Mark Soskin - piano, electric piano, celeste, synthesizers
Russell Blake - electric bass
Tommy Campbell - drums
Lucille Rollins - cowbell
By 1984 it was a common complaint that Sonny Rollins's live appearances were much more exciting than his studio recordings. Although none of the latter were throwaways (and virtually all of the Milestone sessions have their moments of interest), few were real gems. Sunny Days, Starry Nights as usual finds the great tenor at his best on the two ballads ("I'm Old Fashioned" and Noel Coward's "I'll See You Again") while the other four originals have been largely forgotten. His backup crew features trombonist Clifton Anderson and keyboardist Mark Soskin.
Creatively Sonny Rollins always seemed to be on a winning streak. Every decade from the 50's on seemed to find him making enjoyable and high quality jazz. Not always innovative at every moment and not always 100% acoustic but always holding true to his own homegrown style. This is 1984 we're talking about here. It's the era when jazz tended to be either one of two things:the acoustic traditionalism of the "young lions" or the heavy electro-computer sound many of the fusion and jazz-funk musicians were getting into. Interestingly enough Sonny didn't have time for either. He was still very much locked into his "electric-bop" phase at this point and interestingly enough this is one of his more acoustic oriented set since the early 70's. One reason for this may be the change in personel:electric bassist Russel Blake has more of a slapping sound to his riffs and Mark Soskin's touch on keys is much lighter. The album opens and closes with it's two strongest cuts. "Mava Mava" is a great opener:a really dancable jazzy-calypso number that's so kinetic in sound it actually feels as if the musicians are moving as they're playing. This must have been a great tune to hear played live. The closer "Kilauea",as with the similarly compulsive "Tell Me You Love Me" (where the Yamaha DX-7 synthesizer is used so sudtly I cannot even hear it being used) both showcase how this album emphasizes the calypso styled format Sonny had been using on albums such as No Problem a few years earlier. "I'm Old Fasioned" and "I'll See You Again" follow along a similar pattern,the only difference being that they weave the calypso rhythms in and out of the more traditionally syncopated sounds of be-bop,really emphasizing the age old "latin tinge" that always helped the most dancable of jazz to keep on the move. "Wynton" is the slower waltz on the album and offers a chance for the musicians to strech out solos to a degree. This album is not exactly what you'd expect from it's time but I'll say this: if your a jazz fan who doesn't enjoy electronics and synthesizers but are at the same time are not conservative enough for some of the young lions music this might be just the type of 80's jazz that you'll find to your liking because it finds such an excellent middle ground.