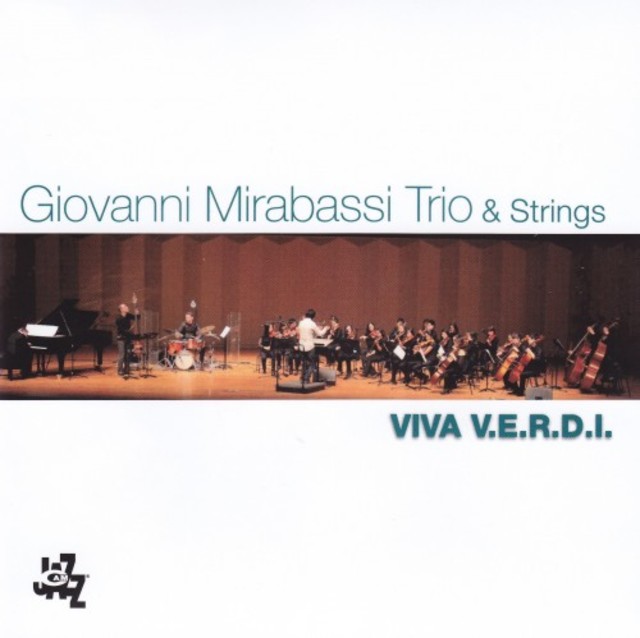 Artist:
Giovanni Mirabassi Trio & Strings
Album:
Viva V.E.R.D.I.
Genre:
Contemporary Jazz
Label:
CAM Jazz
Released:
2013
Quality:
FLAC (tracks+.cue)
Tracklist:
Viva V.E.R.D.I. (G. Mirabassi)
A Song for Sabrina (G. Renzi)
Anna and Sevy (G. Renzi)
Octobre (G. Mirabassi)
Somewhere in Seoul (G. Mirabassi)
The Ancient Oak (G. Mirabassi)
Bebe (H. Pascoal)
Arirang (Trad.)

Personnel:

Giovanni Mirabassi - piano
Gianluca Renzi - double bass, arrangments
Lukmil Perez Herrera - drums

with
Bee String Orchestra directed by Lorenzo Pagliei
Giovanni Mirabassi, an Italian pianist, but adopted Frenchman, makes his debut on CAM JAZZ. This trio album, accompanied by a string orchestra, was recorded live in the Goyang Aram Concert Hall in Goyang South Korea on November 27, 2011.
On the bandstand with Mirabassi are Gianluca Renzi on double bass and Lukmil Perez Herrera on drums, backed up by the 31 members of the Bee String Orchestra, directed by Lorenzo Pagliei.
The trio and strings create a perfect alchemy for generating themes of intense beauty and airy melodies. The principal creators of these themes are Mirabassi and Renzi, the latter of whom also arranged the entire album, apart from the two last tracks, "Bebè" (by Hermeto Pascoal) and the traditional "Arirang", a kind of non-official South Korean national anthem. The arrangements of the string orchestra arouse dreams of romantic scenes for cinema, as if studied for imaginary soundtracks.
Most of Giovanni Mirabassi's career was formed in France (he has been living in Paris for years), but the title "VIVA V.E.R.D.I." was chosen quite intentionally. It is a reference to Italian culture ("Verdi is an icon – he tells his adopted fellow countrymen – a bit like Victor Hugo in France), but also to the spirit of unanimity that the acronym "V.E.R.D.I." (Vittorio Emanuele Re d'Italia) kindled in the Carbonari (members of a secret revolutionary society founded in early 19th-century Italy), who were ready to fight for a unified country. It is his way of feeling close to Italy in a troubled moment. A way for him to continue to tell the world about Italy, together with other "foreigners", like Gianluca Renzi, who lives in New York, and Lorenzo Pagliei, a Parisian like Mirabassi.
This CD, intense and dreamy, will enrapture you from the first track to the last.