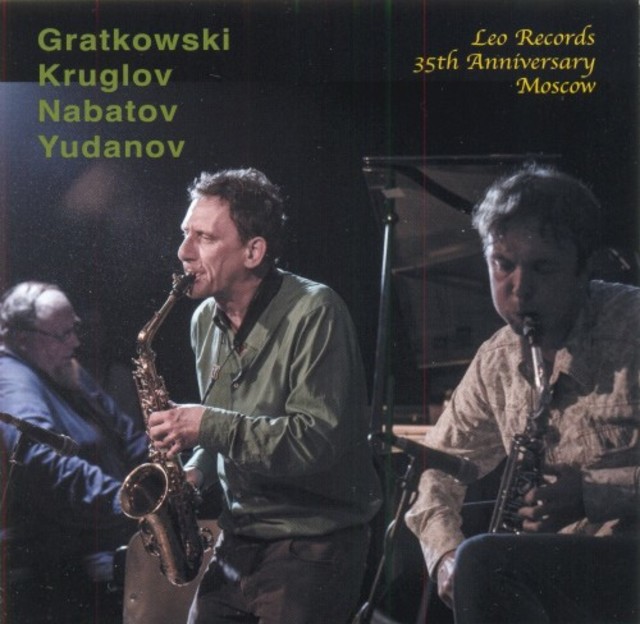 Artist:
Frank Gratkowski, Alexey Kruglov, Simon Nabatov, Oleg Yudanov
Album:
Leo Records 35th Anniversary Moscow
Genre:
Free Improvisation, Free Jazz
Label:
Leo Records
Released:
2015
Quality:
FLAC (tracks+.cue)
Tracklist:
Home Free 7:56
House Games 11:22
Hitting It Home 9:33
Our Digs 5:45
Homecoming 8:47
DOWNLOAD FROM FILECAT.NET >>>
Personnel:

Alto Saxophone [Alto Sax], Bass Clarinet [Bass-Clarinet], Clarinet – Frank Gratkowski
Alto Saxophone [Alto Sax], Basset Horn [Bassethorn] – Alexey Kruglov
Drums, Percussion – Oleg Yudanov
Piano – Simon Nabatov
It would be suitable for UK-based Leo Records' 35th anniversary concert to be held at an arts venue in Moscow. It's the third anniversary concert thus far and reminds many of us avant jazz advocates that this record label has been the primary conduit between Russian's frequently cloistered, cutting edge artists and the West, hearkening back to the Cold War. Proprietor, Leo Feigin has produced either nascent or renowned artists such as Anthony Braxton and Marilyn Crispell spanning the past 35-years. And the celebration continues with the intensity of a blast-furnace via the assertive explorations executed by this German-Russian quartet.
Even though multi-woodwind performer Frank Gratkowski and pianist Simon Nabatov are more visible on the Euro avant-jazz circuit, powerhouse reedman Alexey Kruglov has recorded several albums as a leader with drummer Oleg Yudanov amid other projects for this record label. Their stars have been shining radiantly and the pairing of these four musicians sort of epitomizes the time-honored perception that art is borderless. Here, intuitiveness and deft expressionism serve as a bridge, where the soloists inject cacophonous tirades, countered by sprightly ebbs and flows with Gratkowski and Kruglov's humorous cackles and chirpy phrasings, prominently evidenced on "Home Free." Therefore, the free-jazz format toggles between mischievous scheming and brawny plot developments.
On "Our Digs," the hornists project a bit of vertigo with quiet extended notes and rifling passages, dappled with Nabatov's twinkling notes. Yet the pianist encircles his comrades with fluidly rendered block chords during the often dizzying "Homecoming." Moreover, the quartet morphs groaning sounds with Yudanov's slapping and tapping percussion grooves, signaling a spaced-out world beat rumpus. In sum, the ensemble's inexorable realm of ideas and spirited presentation serves as a rather mind-bending tribute to Leo Records' resiliency and historic risk-taking measures, catapulted by its genre-defying raison d'etre.