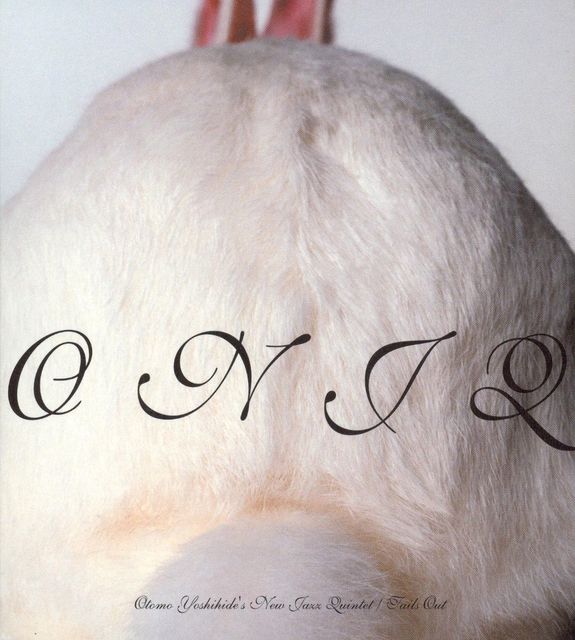 Artist:
Otomo Yoshihide's New Jazz Quintet
Album:
Tails Out
Genre:
Avant-Garde, Free Jazz
Label:
DIW
Released:
2003
Quality:
FLAC (tracks)
Tracklist:
Song for Che (C. Haden) (5:48)
Reducing Agent (Otomo) (9:33)
Solvent Waltz (Otomo) (5:03)
Moons Shine (J.B. Ulmer) (8:11)
Strawberry Fields Forever (J. Lennon & P. McCartney) (7:09)
Orange Was the Color of Her Dress, Then Blue Silk (C. Mingus) (4:18)
Tails Out (Otomo) (13:26)

Personnel:

Otomo Yoshihide: guitar
Naruyoshi Kikuchi: tenor sax
Kenta Tsugami: alto sax, soprano sax
Hiroaki Mizutani: bass
Yasuhiro Yoshigaki: drums, trumpet

Guests:
Kumiko Takara: vibraphone (6, 7)
Sachiko M: sine waves (6, 7)
Yoshiaki Kondo: Binson echo machine (5)
Tails Out is another stunning release from Otomo Yoshihide's New Jazz Quintet, and further integrates his love of fiery jazz and the Onkyo scene, which "puts much more importance on sound texture than on musical structure" (according to good folks at japanimprov.com. The album starts with a wonderful reading of Charlie Haden's "Song for Che" with great playing from the saxmen, Naruyoshi Kikuchi and Tsugami Kenta, who are almost constantly in an intense dialogue throughout the album. That segues directly into an original called "Reducing Agent" that's a burner with some fierce guitar from Yoshihide. There's a steady rhythm, but the playing is very free. "Solvent Waltz" is at once lurching and spastic yet very melodic, and those who are only familiar with Yoshihide's turntable squalls and blasts of guitar terrorism might be shocked at what an excellent guitar player he truly is. The James Blood Ulmer tune "Moons Shine" has a strong harmolodic flavor, with Yoshihide turning in a great, feedback-drenched solo. "Strawberry Fields Forever" gets a fabulous drunken brass band treatment, with Yoshihide again proving what a fine guitar player he can be, when he wants to. For the last two tracks, the quintet is expanded by Sachiko M's sine waves, and the vibraphone playing of Tamara Kumiko, and the sound shifts a bit. Mingus' "Orange Was the Color of Her Dress, Then Blue Silk" begins with nothing but sine waves before getting into the melody of this beautiful and gentle tune, which then segues into "Tails Out": more than ten minutes of lovely Onkyo-jazz bliss, and the longest cut on the album. Tails Out shares some kinship with Ground Zero's Plays Standards, but is far less berserk. The covers are fun, everything is extremely well played, and this band smokes (especially Kikuchi and Yoshihide), but the wildest inclinations of Ground Zero are reigned in here. Otomo Yoshihide is taking all the lessons he's learned from his myriad projects over the last 15 years and breathing new life into a slightly stale jazz scene. Highly recommended.
Review by Sean Westergaard