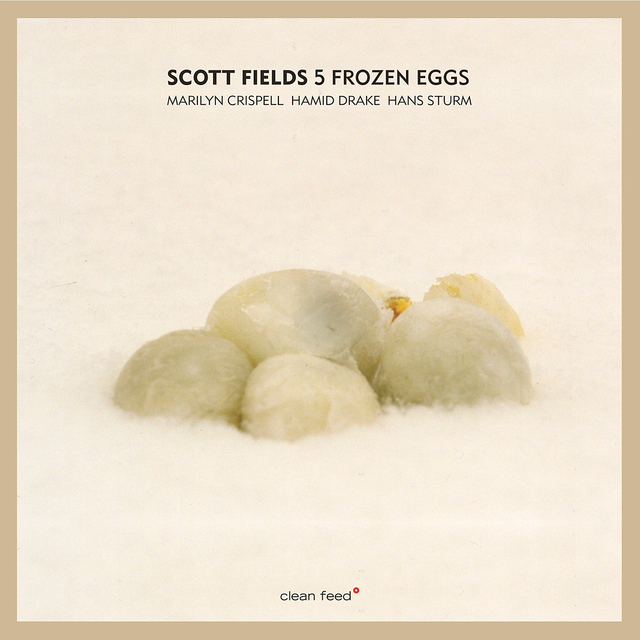 Artist:
Scott Fields
Album:
5 Frozen Eggs
Genre:
Contemporary Jazz, Free Improvisation
Label:
Clean Feed
Released:
1997/2012
Quality:
FLAC (tracks)
Tracklist:
Nada Que Ver, Juarez
Laogai
The Archaeopteryx and the Manatees
Little Soldiers for Science
Teaching Rats to Swim
When it Comes Time to Hang the Capitalists, They Shall be Found Bidding on the Rope
Five Frozen Eggs
DOWNLOAD FROM FILECAT.NET >>>
Personnel:

Scott Fields - guitar
Marilyn Crispell - piano
Hans Sturm - bass
Hamid Drake - drums
This 1996 Scott Fields Ensemble session marked a time of transition for all four musicians. The leader had resumed performing a few years earlier after disappearing for more than a decade. This recording marked one of his first collaborations with musicians from outside of Madison, Wisconsin, where he had moved after leaving Chicago.
Crispell — after 15 years of devotion to the "classic" Anthony Braxton Quartet — had started focusing on her own projects and sidemanwork. Fields had met Crispell two years earlier. Her sister had called a radio station where Fields had been flogging a gig with Joseph Jarman to ask why Fields could "set up gigs for Joseph Jarman but not for my sister." Fields arranged for a Crispell solo concert that was followed six months later by his "48 Motives," on which Jarman, Crispell, and Sturm appear.
For the Eggs session, Sturm returned to Madison from Ball State University, where he had just started his academic career as a professor of contrabass. Sturm and Fields met when the bassist had moved to Madison, attracted by the university's hire of Richard Davis, a legend for his individualist style and extensive sideman catalog.
Drake just starting to move toward becoming the jazz and improvised music icon he is now. Two years earlier he had started his musical relationship with Peter Brötzmann and was working steadily with Ken Vandermark and other young Chicago players. But Drake was at this time still doing musical odd jobs, such as playing in reggae groups and leading corporate drum circles. Within a year he was playing creative music full time.
Even the studio was changing. Smart Studios was owned by Butch Vig, best known for producing Nirvana and Smashing Pumpkins. Smart treated Fields as its studio art-pet, charging him a fraction of its normal rock-star rate and then shaving off hours when it came time to pay the bill. Two years earlier, while Fields was at Smart tracking "Fugu" (reissued by Clean Feed), Vig was mixing his new group Garbage, in which he played drums. Their album went platinum and Vig plowed some of the profits back into the studio, leaving Fields working in a world-class but bargain-basement-priced facility.
Some of the pieces, including the title track, are also about transitions. For example, in "Five Frozen Eggs" dashed or solid lines indicate the time between floating events (an idea Fields lifted from bassist Jason Roebke) and "The Archaeopteryx and the Manatees" incorporates modularity, a way to spontaneously set transitions.