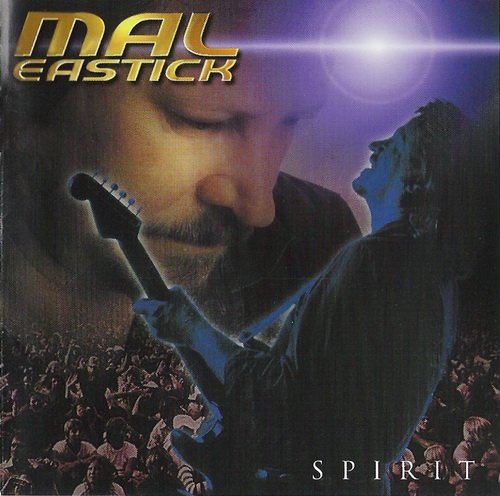 Artist:
Mal Eastick
Album:
Spirit
Genre:
Blues Rock
Label:
Bluefish Records
Released:
2001
Quality:
FLAC (tracks+.cue)
Tracklist:
Jungle Funk (3:21)
Heavy Heart (3:45)
Another Man (3:52)
The 'E' Street Shuffle (2:33)
Talkin' 'Bout My Baby (3:23)
Love So Strong (3:54)
The Gringo Swing (3:26)
Lost In The City (4:56)
Blues For Aaron (2:38)
Bye Bye Baby (4:22)
I'll Never Be Back (4:25)
Swept Away (6:55)

Personnel:

Mal Eastick - guitars
John Makey - vocals
Ian Lees - bass
Rudy Miranda - drums
They say that good things come to those who wait. There surely must be a goodly measure of truth in that statement, as sometimefinding great blues and blues/rock music from around the world can be difficult and time consuming. It is, however, extremely rewarding when that CD arrives from abroad and you realize upon listening to it that you have unearthed a real treasure.
Like the unending patience of the old miners who panned for gold, my diligent efforts yielded me a truly remarkable recording from Mal Eastick, the veteran Australian blues/rock guitarist. "Spirit" is Eastick's much anticipated sequel to his very fine 1995 release "The Southern Line". It contains 12 original tracks either written or co-written by Eastick, including 5 very fine instrumentals. Every selection on this CD is a first class offering and quite frankly it has been a long time since I have heard a recording from anyone that is this consistently good from start to finish. Eastick's guitar is clean, crisp, and commanding throughout the entire set, and he is most admirably backed by John Makey on vocals, excellent bassist Ian Lees, who I knew from his work with Kevin Borich, and Rudy Miranda on drums. This is a very polished and professional band and the studio sound is excellent as well.
Picking personal favourites is a problem here, as the entire set is so strong. I will mention, however, the heavy hitting blues/rock numbers "Heavy Heart" and "Talkin' 'Bout My Baby". Any one of the 5 instrumentals is also very good. And, as another indication of how consistently good this recording is, I would have recommended that my readers buy it if it had ended on track 9. Thankfully, the set does not end with no.9, as tracks 10 and 11, "Bye Bye Baby" and "I'll Never Be Back" respectively, are in fact the strongest two on the set. I find this most unusual and unlike most recordings I review. This wonderful CD again reminds me of why I am such a great fan of Australian blues/rock recordings, as several of the artists that I have reviewed (Dave Hole, Kevin Borich and Rob Tognoni) have a similar such commitment to excellence as does Mal Eastick.