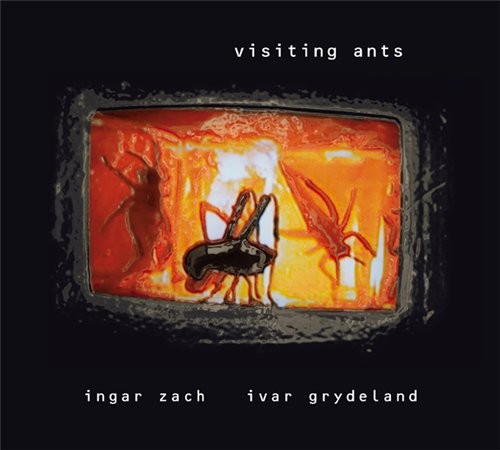 Artist:
Ingar Zach & Ivar Grydeland
Album:
Visiting Ants
Genre:
Free Improvisation
Label:
Sofa
Released:
2000
Quality:
FLAC (tracks)
Tracklist:
Sofamiliar... (2:14)
First Visit (3:46)
Sofasticated Lady (5:33)
Fiskum Drisk (3:06)
Hakavik Loek (2:05)
Think Happy Thoughts (2:09)
...But Still Sofanatic (7:46)
Darbu (2:42)
Dog (5:49)
Last Visit (2:24)

Personnel:

Ivar Grydeland - electric guitar
Ingar Zach - percussion
Drummer Ingar Zach and guitarist Ivar Grydeland co-founded the Norwegian free improv label Sofa in 2000. One of the first CDs they released was their duo effort, Visiting Ants. It was recorded in the studio over one session. A bit short at 38 minutes, it still packs a lot of punch. Each musician was allowed about ten minutes of solo feature, leaving a little under 20 for dialogues. Tracks are short, dense, and filled with sparks. Grydeland finally gets the room he deserves -- his presence on Sofa's first release, the Tony Oxley Project 1's CD Triangular Screen, was overshadowed by the legendary drummer. His blend of straight and prepared electric guitar playing builds a bridge between the preparations of Hans Tammen, René Lussier's steel-wool-on-strings style of the late '90s, and Derek Bailey's abstract lines and use of a volume pedal. His level of communication with Zach recalls Lussier's complicity with drummer Pierre Tanguay (as on La Vie Qui Bat: Chèvre). Each one of his moves is met by Zach, often in unexpected ways. With the growing rise of post-minimalism in free improv in the early 2000s, playfulness had become a less-valued quality. These two players put it back in the center of their music to delightful results. The performance shines and bristles. They are having fun -- so are listeners.
Review by François Couture