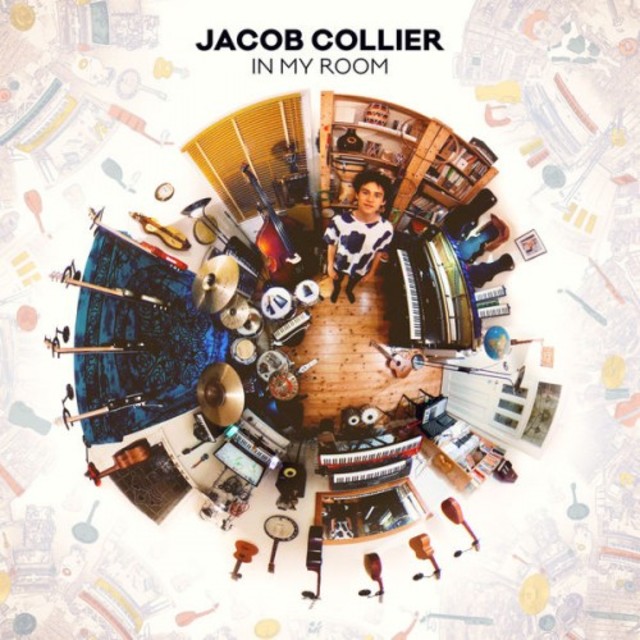 Artist:
Jacob Collier
Album:
In My Room
Genre:
Vocal Jazz, A cappella, Jazz Fusion, Crossover Jazz
Label:
Membran
Released:
2016
Quality:
FLAC (tracks)
Tracklist:
Woke up Today (4:41)
In My Room (4:50)
Hideaway (6:53)
You and I (4:21)
Down the Line (6:39)
Now and Then I Think About You (0:53)
Saviour (6:08)
Hajanga (6:03)
Flintstones (3:11)
In the Real Early Morning (6:09)
Don't You Know (9:10)
DOWNLOAD FROM FILECAT.NET >>>
With a slickness and precision suited for the Manhattan Transfer set and a jazzy character to match, In My Room is the 2016 debut album of crackerjack arranger, vocalist, multi-instrumentalist, and Internet sensation Jacob Collier. Collier began uploading videos of multi-track solo performances -- often presented in a grid layout so that each vocal and instrumental take was visible -- as a 17-year-old in 2011. These performances, some of which approximate complex group a cappella, evolved over time to use a vocal harmonizer, part of the multi-media set-up he developed with MIT's Media Lab to enable solo, multi-track live performance. A key component of his sound, the device allows him to sing a pitch into a microphone and get simultaneous vocal harmony as dictated by the chords he plays on a keyboard, all on the fly. Fans of his videos will recognize his hyper a cappella take on the theme to The Flintstones that's included here. While Collier's done video renditions of "Isn't She Lovely" and "Don't You Worry 'Bout a Thing," Stevie Wonder is represented on the LP by a reverential, well-harmonized version of "You and I." Another cover is the title track, a likewise respectful version of the Beach Boys classic. "In My Room" is highlighted by an elegant jazz piano solo -- Collier's principal instrument -- though its persistent fluttering bassline may draw the most attention. Speaking of bass, funk is, perhaps surprisingly, a defining element of the album. The opener, "Woke Up Today," is a wildly funky kind of make-or-break track, especially for first-time listeners. It plays like a frenetic tour of Collier's music room and a demo of his studio skills. In general, the technical prowess on display on In My Room is impressive but may leave more than a few starved for something that sounds human. They'll find it in the original song "Hideaway," an atmospheric wash of acoustic guitar and related stringed instruments, along with an udu-type drum and acoustic percussion, accordion, and, at its center, a refreshingly intimate, single vocal line. With Collier still a student at the Royal Academy of Music during the album's creation, one can only imagine what the young musical polymath's potential may hold in store. At this point, though, his musicality may benefit from at least a dose of the philosophy that just because you can, doesn't mean you always should, but he now has, at the very least, a dazzling production reel of a debut on his résumé.
Review by Marcy Donelson