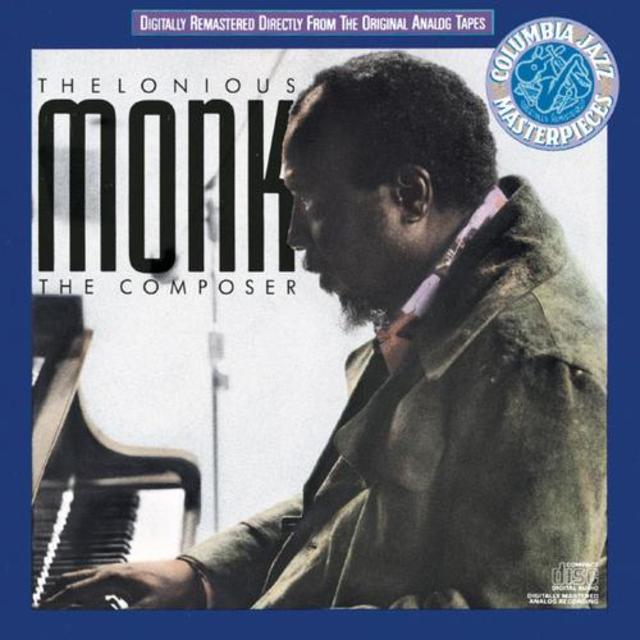 Artist:
Thelonious Monk
Album:
The Composer
Genre:
Bop
Label:
Columbia Jazz Masterpieces
Released:
1988
Quality:
FLAC (tracks+.cue)
Tracklist:
'Round Midnight (Hanighen-Williams-Monk) - 3:52
Bemsha Swing (Best-Monk) - 4:32
Rhythm-A-Ning (Monk) - 3:56
Reflections (Monk) - 4:39
Straight, No Chaser (Monk) - 9:39
Brilliant Corners (Monk) - 3:57
Ruby, My Dear (Monk) - 5:42
Well, You Needn't (Monk) - 9:19
Blue Monk (Monk) - 6:17
Criss-Cross (Monk) - 4:44
Crepuscule with Nellie (Monk) - 2:48
DOWNLOAD FROM FILECAT.NET >>>
The Composer is a collection featuring previously issued Thelonious Monk recordings made during his six-year (1962-1968) stint with Columbia Records. The spotlight is on Monk performing his own works in a variety of contexts and settings ranging from solo piano to fully orchestrated -- in the studio as well as in front of an audience. It has been said that no one truly understood Monk but Monk. His ability to reinvent his music is staggering. The brief period that he spent recording with legendary producer Teo Macero is generally accepted as a time of reflection for Monk. This volume is equally a testament to the inventiveness and elasticity of the compositions as it is to The Composer. Monk's versatility as a sonic sculptor ranges from the impractical '40s-style big-band bop groove that propels "Brilliant Corners" to the intoxicating solitude of "Ruby, My Dear." As a band member, Monk's musical antagonism is aptly displayed on "Well, You Needn't" and "Straight, No Chaser" -- both of which come from live quartet performances -- as he prods the melody into and back out of some well-placed solos from Charlie Rouse (tenor sax), John Ore (bass), and Frankie Dunlop (drums). The Composer was issued during the infancy of the compact disc revolution. Some information -- such as the performance of "Blue Monk" notated here as unavailable elsewhere -- has therefore become erroneous. Likewise, numerous compilations have since been issued from superior source recordings sporting longer play times. This shouldn't depreciate the value of this collection as an outstanding primer for parties curious in sampling Thelonious Monk's years on Columbia Records.
Review by Lindsay Planer