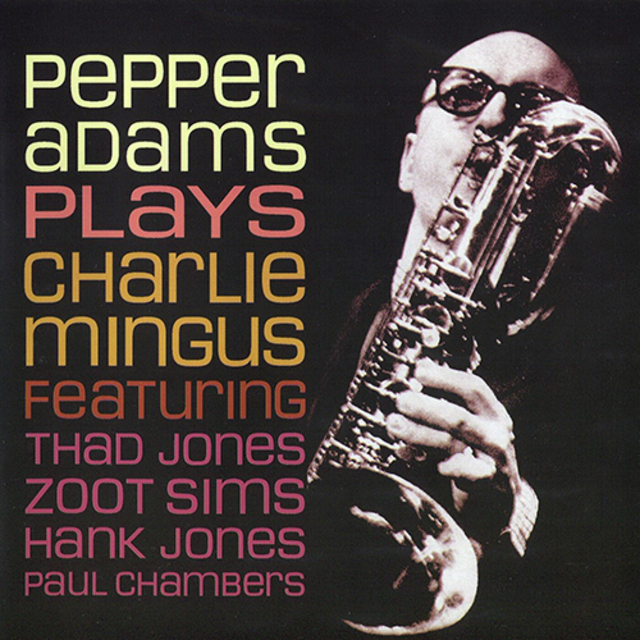 Artist:
Pepper Adams
Album:
Plays Charlie Mingus
Genre:
Hard Bop
Label:
Fresh Sounds Records
Released:
1963/2003
Quality:
FLAC (tracks+.cue)
Tracklist:
Fables of Faubus (4:27)
Black light (3:42)
Song with orange (2:37)
Carolyn (5:02)
Better git in your soul (4:05)
Incarnation (5:46)
Portarait (2:56)
Haitian fight song (7:54)
Strollin' honies (5:30)
DOWNLOAD FROM FILECAT.NET >>>
Personnel:

Pepper Adams - bars
Thad Jones - tp
Benny Powell - tb (5, 7, 8)
Charles McPherson - as (5, 7, 8)
Zoot Sims - ts (5, 7, 8)
Hank Jones - p
Paul Chambers - b (1-4, 6, 9)
Bob Cranshaw - b (5, 7, 8)
Dannie Richmond - d
Pepper Adams' Plays Charlie Mingus is a watershed album in Adams' long career. For starters, Mingus himself had a hand in the selection of material for the dates, along with Adams and vibist Teddy Charles. Next, the two dates here, September 9 and 12, 1963, were recorded with two different bands. Most of the material was taped on the earlier date with an octet comprised of Adams, Mingus' own drummer, Danny Richmond, bassist Paul Chambers, and Thad Jones on trumpet and his brother Hank on piano. The latter date added Charles McPherson on alto, Zoot Sims on tenor, Bennie Powell on trombone, and had Bob Cranshaw replacing Chambers on bass.
Adams' read of "Fables of Faubus," by the quintet with its loping, rather than careening, pace, was arranged by Thad Jones approved by the composer. Historically, it is also the first recording of the work without vocals. "Incarnation," also by the quintet, was arranged by Adams. Hank Jones leads the band in the piece's difficult rhythmic and harmonic structures, and he edges Adams and Thad Jones on in the front line; Pepper's solo and fills are among the most moving and knotty of his career. Of the octet session, "Haitian Fight Song" is as furious as the composer's, as Cranshaw's bass drives the band inexhaustibly into the spirit of righteous indignation and rage at its heart. On "Better Git It in Your Soul," Sims and Powell's solos are full of gut-bucket funk and stride the R&B line with aplomb and plenty of grease. This is one of those must-own recordings for fans of Adams; but it is also for those who revere Mingus' work, because, as radical as some of these interpretations are, they were not only sanctioned by, but delighted in by the composer.