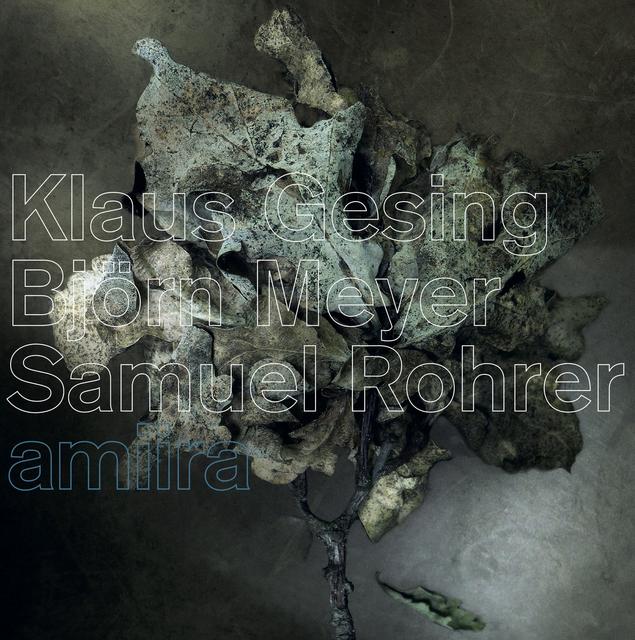 Artist:
Klaus Gesing, Björn Meyer, Samuel Rohrer
Album:
Amiira
Genre:
Modern Creative, Progressive Jazz
Label:
Arjunamusic
Released:
2016
Quality:
FLAC (tracks)
Tracklist:
Shine On Me
Minne
Fulminate
Flimmer
After You Left
Source One
Clouds Below
Refraction
Sirènes Sacrées
What We Leave

Personnel:

Bass Clarinet, Soprano Saxophone – Klaus Gesing
Drums, Percussion – Samuel Rohrer
Electric Bass, Recorded By, Mixed By – Björn Meyer
The trio of Swiss drummer & percussionist Samuel Rohrer, Swedish bass guitarist Björn Meyer and German reedsman Klaus Gesing first came together in 2013 when they released their only previous recording, open_source_music. Before they joined forces, each of the three had had years of experience on the road playing various styles of music. On coming together, their stated intention was to dissolve the borders between improvisation and composition, with the music on that debut recording demonstrating that they lived up to that intention.
Now comes Amiira, released on Rohner's own Arjuna Music label. With the exception of one live recording from March 2013 — "Source One" (also featured on the debut release) — it was all recorded and mixed in Bern between March and December 2015; the album consists of ten tracks, totalling forty-six minutes, their lengths ranging from under two minutes to over eight-and-a-half minutes. Apart from "Sirenes Sacrées," by the late Armenian composer Khachatur Avetisyan, all the tracks were composed and arranged by the trio, with Gesing getting sole credit for the first two. The wonder is that anyone gets credit for composing and arranging this music, given the trio's intention to dissolve the borders…
On Gesing's home page there are some insights to how this trio operates: " There are meeting points: Some of these are transcriptions of former improvisations which were marked by their concrete form and stringency. Others can be compositions of group members or pieces taken from the vast heritage of folk music from all over the world." Despite such clues, throughout the album it would not be possible to definitively say which music was composed and which improvised. All the music has a regular pulse, often maintained by Rohner's drumming but owing just as much to his two bandmates. No one player obviously leads the other two, but the three of them collectively create the soundscape together, as if by instinct, without any glaringly obvious pre-planning or communication.
While the three musicians are equal partners in the music, Gesing's instrument—bass clarinet or soprano saxophone—inevitably plays a melodic line and so tends to attract rather more attention than the bass or drums. This is particularly true on the long opening track, his own "Shine On Me," where the bass clarinet is particularly mellifluous and sensuous. (Incidentally, the Arjuna Music label has three series, Acoustic, Electronic and Extended; it is entirely fitting that this trio release is in the Acoustic series, where it is a perfect fit.) Despite Gesing attracting such attention, Meyer and Rohrer are no stooges and are deserving equal attention; the end results unquestionably depend equally on the contribution of each of them and on their interactions.