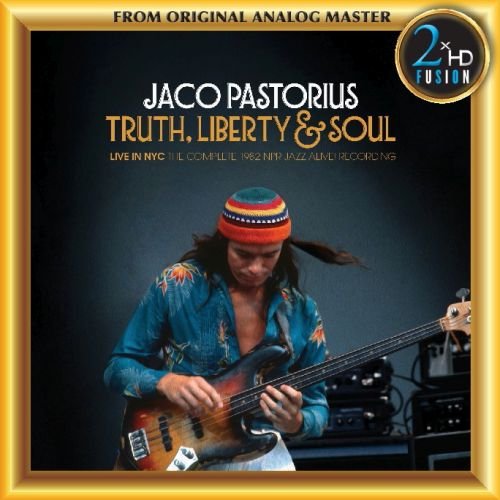 Artist:
Jaco Pastorius
Album:
Truth, Liberty & Soul (Live in NYC: The Complete 1982 NPR Jazz Alive! Recording)
Genre:
Jazz Fusion
Label:
Resonance Records
Released:
2017
Quality:
FLAC (tracks) [16bit/44.1kHz] + booklet
Tracklist:
Invitation 13:04
Soul Intro / The Chicken 9:10
Donna Lee 13:18
Three Views Of A Secret 6:38
Liberty City 10:10
Sophisticated Lady 7:43
Bluesette 5:31
I Shot The Sheriff 6:55
Okonkolé Y Trompa 15:07
Reza / Giant Steps (Medley) 10:19
Mr. Fonebone 10:37
Bass And Drum Improvisation 14:05
Twins 2:53
Fannie Mae 5:55
DOWNLOAD FROM FILECAT.NET >>>
Personnel:

Jaco Pastorius (Bass & Vocals)
Bob Mintzer (Tenor and Soprano Saxophones and Bass Clarinet)
Randy Brecker (Trumpet)
Othello Molineaux (Steel Drums)
Don Alias (Percussion),
Peter Erskine (Drums),
Blue Lou Marini (Tenor Sax)
Jon Faddis (Trumpet),
Jim Pugh (Trombone)
David Bargeron (Tuba)
Toots Thielemans - harmonica
Resonance Records presents another previously unreleased gem from the NPR Music vaults, following 2016's critically acclaimed Sarah Vaughan release 'Live at Rosy's'. 'Truth, Liberty & Soul' captures the iconic bass innovator Jaco Pastorius leading a 22-piece big band on June 27, 1982 at Avery Fisher Hall in New York City.
Featuring a congregation of the top jazz musicians on the New York scene at the time such as Peter Erskine, Bob Mintzer, Randy Brecker, Jon Faddis, Frank Wess, Lew Soloff, Howard Johnson and others, along with the legendary harmonica player Toots Thielemans as a special guest, 'Truth, Liberty & Soul' showcases Jaco's brilliant compositions for large ensembles with electrifying energy of a live performance.
A portion of the concert was previously broadcast on the NPR program Jazz Alive! in 1982, and has been available as unofficial bootlegs, but this is the first official release authorized by the Jaco Pastorius estate, Warner Music Group and NPR Music and contains an additional 40 minutes which never aired. Culled from the original NPR 24-track tape reels, this is the complete concert from start-to-finish, with the sound meticulously restored for release and mastered by the original, multi-Grammy award winning, recording engineer from the broadcast, Paul Blakemore.
'Truth, Liberty & Soul' will be available as a deluxe 2-CD package and includes a 100-page booklet, featuring rare photos by Tom Copi, Don Hunstein, Rene Perez and Donna Ranieri, essays by acclaimed jazz writer Bill Milkowski (author of Jaco: The Extraordinary and Tragic Life of Jaco Pastorius) and producer Zev Feldman, the original recording engineer Paul Blakemore, as well as interviews with Metallica bassist Robert Trujillo, who produced the award-winning documentary JACO (2014), and musicians - drummer Peter Erskine, saxophonist Bob Mintzer, trumpeter Randy Brecker, bassist Victor Wooten and more!