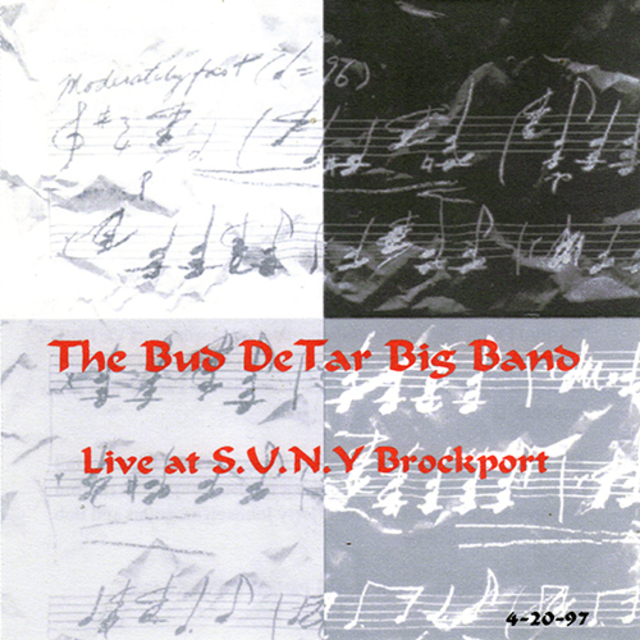 Artist:
The Bud DeTar Big Band
Album:
Live At S.U.N.Y. Brockport
Genre:
Big Band
Released:
1999
Quality:
FLAC (tracks+.cue)
Tracklist:
Big Dipper (6:17)
Cheers (2:50)
Basically Blues (5:07)
Bud's Blues (5:29)
Easy Does It (4:30)
Easy Livin' (4:27)
Song For Stella (4:25)
Back Home (3:07)
Trumpet Soliloquy (4:59)
Peanuts (3:37)
I Can't Stop Loving You (4:49)
Blues Before And After (4:40)
Things Ain't What They Used To Be (5:32)
Dreams (3:55)
Cashews (2:59)
Show Me The Way To Go Home (5:47)
DOWNLOAD FROM FILECAT.NET >>>
Francis E. "Bud" DeTar was a long time resident of Brockport, NY. Born in Albion, NY, in 1922 and died on November 23, 2008. A well known local musician, Bud was a graduate of Rochester's Jefferson High School (1938), SUNY Brockport and the Eastman School of Music. Bud was an Army combat veteran of World War II in Europe. He served on the faculty of the music department at SUNY Brockport. Throughout his life Bud was a performing musician and bandleader in the Rochester area, with The Dixieland Ramblers, The Gates Swingers and other popular groups. The concerts performed by The Bud DeTar Big Band at the SUNY Brockport campus, several seasons in the 1990's, were quite memorable.
Bud DeTar had over 50 years of experience as a performer in the field of jazz music. He played piano, guitar, flute and saxophone and had performed with such renowed artists as Urbie Green, Coleman Hawkins, Jimmy McPartland, Bobby Hackett and Charlie Shavers.
The Bud DeTar Big Band members included saxophonists Vic Platt, Nate Angello, Vince Finocchio, Bill Hullfish and Ralph Dickinson. Trumpeters Buddy Calaneri, Dick Zoma, Sandy Parlato and Jim Neyhart. The trombone section included Jim Dungan, Floyd Hughes, Bill Dengler and Harry Stanton. Backing up the group was the rhythm section of John Curry on bass, Jerry Johnson on guitar and Bob Livingstone on drums.