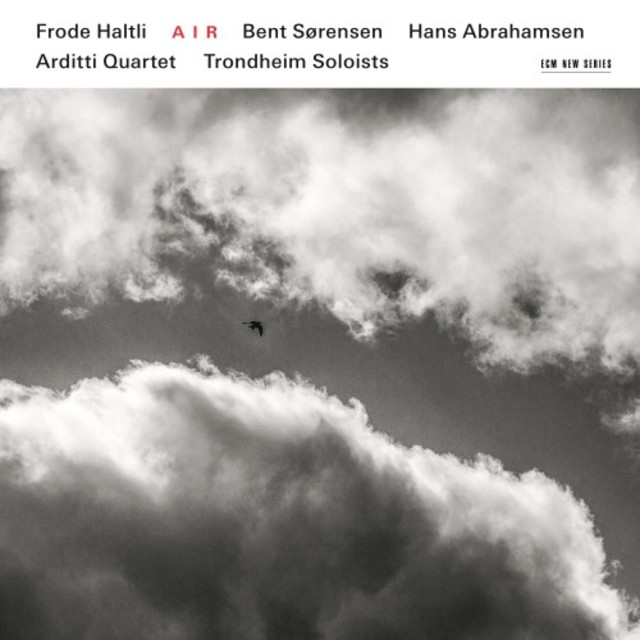 Artist:
Frode Haltli, Bent Sørensen, Hans Abrahamsen, Arditti Quartet, Trondheim Soloists
Album:
Air
Genre:
Chamber Jazz, Contemporary Classical
Label:
ECM New Series
Released:
2016
Quality:
FLAC (tracks)
Tracklist:
It Is Pain Flowing Down Slowly On A White Wall
Air

Three Little Nocturnes
I. Andante Amabile
II. Allegro Appassionata
III. Langsam Gehend, Immer Zögernd, Mit Unsicheren, Immer Schleppenden Schritten


Sigrid's Lullaby
DOWNLOAD FROM FILECAT.NET >>>
The solo album Air is now out on ECM New Series, and Frode Haltli is heard here with chamber orchestra, with string quartet and solo, performing music by Danish composers Bent Sørensen (b. 1958) and Hans Abrahamsen (b. 1952). Haltli plays Sørensen's 'It is Pain Flowing Down Softly on a White Wall' with the Trondheim Soloists, as well as the solo piece 'Sigrid's Lullaby'. Hans Abrahamsen's 'Three Little Nocturnes' find the accordionist in the company of the redoubtable Arditti Quartet, 'a vital institution in contemporary music' as Haltli says. For the title composition 'Air', Hans Abrahamsen returned, at Frode Haltli's suggestion, to the early solo work 'Canzona', revising it until it became a new piece. Of Abrahamsen's music, Frode Haltli writes that 'not one note is accidental, nor are any of the other specifications. Sometimes, this results in very complex music, while a moment later it is so simple that it seems a child could perform it. He writes music that can be on the verge of being discomforting, while at the same time it is indescribably lovely.' Haltli acknowledges that the music of Bent Sørensen has been an influence on his development as a player. Sørensen composed the demanding 'Looking on Darkness' (later the title track of Haltli's ECM debut) for Frode's debut concert in Copenhagen, forcing him 'to discover new ways of thinking and of playing my instrument, which I have continued to work on for many years, also in the field of improvisational music, and in other contexts than classical music.' In the same spirit 'It is Pain Flowing Down Softly on a White Wall' challenges perceptions of what can be achieved on the accordion through tone control and nuances in soft dynamics. On the present recording, Haltli's accordion blends into and out of the sound of the Trondheim Soloists' nine violins, three violas, three cellos and double bass. Towards the end of the piece the Trondheim musicians take up melodicas, to create textures which seem like a ghostly echo of the accordion. All of the music on the present disc was written for Frode Haltli, with the exception of 'Sigrid's Lullaby', which derives from Bent Sørensen's set of nocturnes for piano. 'The piece flows easily into the adjacent but so different space of the accordion,' Paul Griffiths observes in his booklet essay. 'The lullaby is repeated again and again, slowly dissolving in the waters of time.'
With the exception of its three-plus minute closing number (Sørensen's "Sigrids Wiegenlied"), all of Air's compositions were written specifically for accordionist Frode Haltli. The two composers featured here, Bent Sørensen and Hans Abrahamsen, must be be well acquainted with Haltli's tastes and abilities because Air is easily a masterpiece. Despite some fussy variables — such as the difficulty of the music or the density of the ensembles behind the accordion — music just seems to pour out in great abundance from Air's first minute to its final fade. This is not one of those albums of new classical music where you need to "work" for the enjoyment; it's already there for your taking. An entire feature can be written about the opening number, Sørensen's "It Is Pain Flowing Down Slowly on a White Wall". Not only does its 21-minute running time occupy nearly half the album, but it also covers a stupefying amount of musical ground, as Haltli works like hell to summon new sounds and textures from his instrument. "It Is Pain…" features the Trondheim Soloists ensemble under the leadership of Øyvind Gimse, a group that responds remarkably well to built-in flexibilities of Bent Sørensen's writing. At times, it's difficult to tell where Haltli's chromatic shenanigans end and the violins' glissandos begin during the rubato-heavy introduction—which spans a nebulous six-minute stretch. The tempo is chugging forward, but it's hard to determine the exact pulse. Likewise, the harmony is neither major nor minor, neither tonal nor atonal. The whole thing just seems to be pushing forward as if it had a mind of its own with no musician or composer to drive it.
Hans Abrahamsen, in turn, uses a more precise approach to composing. Frode Haltli reveals that "not one note is accidental, nor are any of the other specifications". Much like a classical piece by John Zorn or dialogue written by the Coen brothers, Abrahamsen specializes in creating things that sound spontaneous but actually are not. The 11-minute title track gives Haltli a chance to toss and turn solo, ebbing in and out of moderate dynamics while varying the lengths of the mysterious chords. The miniature suite "Three Little Nocturnes" is a far more agitated and musically challenging display of Abrahamsen's writing. Here, Haltli is joined by the Arditti Quartet, an ensemble that has already racked up a great deal of superlatives from music writers around the globe. The "Andante amabile" and "Langsam gehend" movements play with the harmony in a slower setting, but it's the fury of the "Allegro appassionato" movement that jolts the listener all the way forward. In Haltli's own subtle words, "[h]e writes music that can be on the verge of discomforting".
Frode Haltli gets another turn at a solo performance on the aforementioned final piece. Not unlike the DNA of Abrahamsen's pieces, the harmonies of this lullaby aren't exactly soothing. The unique thing, though, is that no matter how much the figure repeats, "Sigrids Wiegenlied" never sounds like it is repeating. Rather, there are enough changes in each go-round to disguise the repetition. This is just one of many reasons why a release like Air should be celebrated long after an album's usual life-cycle. It is highly original but puts no distance between the music and the listener. It traffics in the "new music" tools of the trade, but belongs to no era in particular. It is a genre highlight as well as a Frode Haltli career highlight.