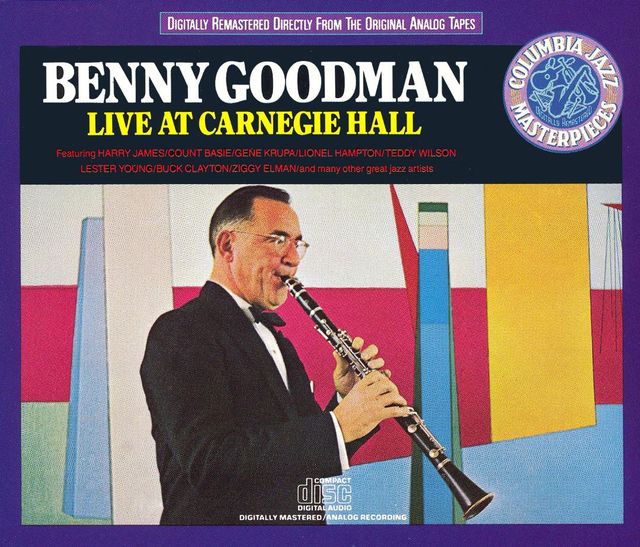 Artist:
Benny Goodman
Album:
Live At Carnegie Hall [1938]
Genre:
Early Jazz, Swing
Label:
CBS Records
Released:
1950
Quality:
FLAC (image+.cue)
Tracklist:
CD 1:



Don't Be That Way (04:23)
One O'Clock Jump (06:38)
Sensation Rag (01:20)
I'm Coming Virginia (02:07)
When My Baby Smiles At Me (00:50)
Shine (01:04)
Blue Reverie (03:17)
Life Goes To A Party (04:13)
Honeysuckle Rose (13:59)
Body And Soul (03:23)
Avalon (04:17)
The Man I Love (03:26)
CD 2:



I Got Rhythm (05:06)
Blue Skies (03:19)
Loch Lomond (03:00)
Blue Room (02:43)
Swingtime In The Rockies (02:30)
Bei Mir Bist Du Schon (04:00)
China Boy (04:54)
Stompin' At The Savoy (05:52)
Dizzy Spells (05:45)
Sing Sing Sing (With A Swing) (12:08)
Big John's Special (03:44)

Although it has been superceded by the remastered, more extensively researched, and longer running Live at Carnegie Hall: 1938 Complete, this two-CD set issued in 1987 is still very worthwhile to the casual listener, and it has virtues that the reissue lacks. Mastered from a triple-LP set that had been cleaned up and edited at the time of release in the early-'50s, it is easy on the ear as far as sound quality, with none of the clicks and pops that intrude onto the remastered version. It is as valid a document of a concert as any live album ever release, and it has about 90 percent of the music that is on the remastering, and what music! -- the versions of "Don't Be That Way," "Sing Sing Sing," and "One O'Clock Jump" alone are priceless (and arguably definitive, in the case of the first two), and they represent only a fraction of what's here. Thus, this set is not to be passed over, especially at the right price, for anyone who isn't an absolute Goodman fanatic.
Review by Bruce Eder