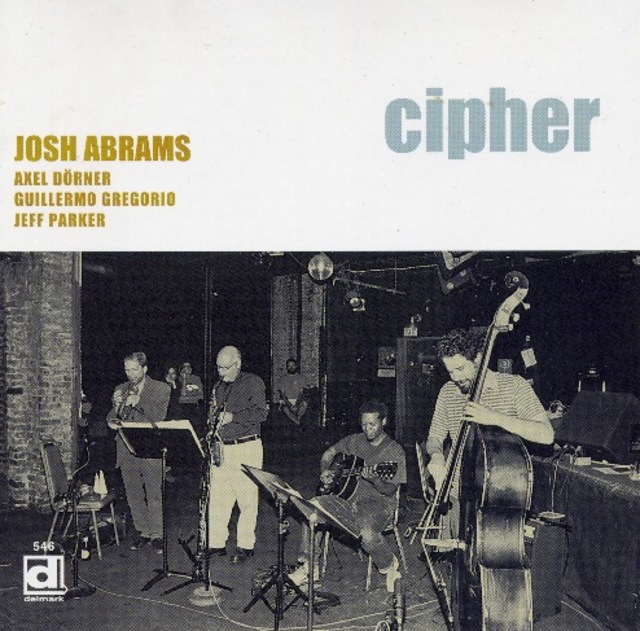 Artist:
Josh Abrams
Album:
Cipher
Genre:
Avant-Garde / Free Improvisation
Label:
Delmark
Released:
2003
Quality:
FLAC (image+.cue)
Tracklist:
Mental Politician
And See
Neb Nimaj Nero
Cipher
Calamites Break
No Theory
Background Beneath
Space Modulator
First Tune That Night
For SK
DOWNLOAD FROM FILECAT.NET >>>
Personnel:

Josh Abrams - bass
Axel Dörner - trumpet, slide trumpet
Guillermo Gregorio - clarinet, alto saxophone
Jeff Parker - guitar
Josh Abrams's Cipher is a fine example of what is stylistically possible for a crack jazz group in the early 21st century. Abrams, a bassist, is a member of the minimalist chamber group Town and Country, an ensemble that has put out a hypnotizing series of recordings on the esteemed indie label Thrill Jockey. By the sound of Cipher, he's also no stranger to diverse jazz and improv settings as well. He's joined by the standout Chicago guitarist Jeff Parker, who has likewise played with a number of edgy ensembles (Tortoise, Isotope 217) and also shows mastery of more traditional jazz forms in his own solo date for Delmark, Like-Coping from earlier this year. The two young Chicagoans are joined by a couple of older transplants to the city: Argentinean musical explorer Guillermo Gregorio on alto and clarinet, and German trumpeter Axel Dörner.
The quartet draws from many aspects of the 20th century jazz and improv tradition, leaves irony in the dust, and builds a new inclusive aesthetic out of the pieces of the past. The free "Mental Politician" opens the album and foreshadows much of what's to come. Parker's guitar is starkly amplified and wooden to the point of crossing into the percussion category, a tone that serves this group's music well. While he blusters about, playing as if on tom-toms, Abrams' bass fires up the free pulse rhythm and Dörner's extended technique, sounding like the rattling of tin sheets, fills the cymbal-space. This rumbling rhythm machine weaves and dips in dynamics, sometimes choppy, and sometimes droning, while Gregorio's freebop alto scrapes over and through the bustle. The two other longish tracks are also free, though in "Cipher" the musicians concern themselves almost exclusively with texture, and "No Theory", a piece similar to "Mental Politician", lacks the cohesiveness of its more successful counterpart.
Abrams' experience with Town and Country is evident in "And See", a piece for trumpet and clarinet blindly overdubbed multiple times. The random pacing and overlapping of the phrases—and the resultant harmonic oscillations—is initially entrancing, though the inhuman quality that makes it initially so exotic becomes repulsive as the expectation of the imposition of form and resolution is denied. But "And See" is the experimental wildcard; the remaining six tracks on the album run the gamut of modern jazz styles.
Dörner's "Background Beneath" is a fractured Ornette-like theme that mutates into straight bop soloing over "Indiana" chords. In the context of the record, the straight bop is startling, but as each soloist navigates the changes with aplomb and style intact, it becomes another useful window into the group's personality. "Neb Nimaj Nero" opens with Parker's playing at its most traditionally beautiful, showing Jim Hall and Kenny Burrell influences, over a buoyant Abrams slow walk. Like much of the album, the performance is unpredictable—after Parker's statement the music melts into some glassy feedback tones before re-forming into a lyrical ballad. Strayhorn, Shorter, and Mingus all contribute to "Neb Nimaj Nero"'s DNA, though overall the debt is not too heavy to any of them.
Abrams again has a winning composition in "Calamities Break", which sounds like an unlikely mixture of Lennon/McCartney's "And I Love Her" and Mingus' "Weird Nightmare". The quartet manages to make like a big band in miniature here, with the saxophone and trumpet chasing each other's tails as the bass and guitar compulsively re-frame the thematic material. "First Tune That Night", the eighth track (incorrectly marked on the CD's packaging as the ninth track) is another free composition, but as opposed to the other more expansive pieces mentioned above, this one centers on a bass ostinato and could be composed for its focus and conciseness—a remarkable performance. Gregorio's "Space Modulator" presents an entirely different strategy. The ensemble reads a geometric theme statement before splintering into forced solo spotlights with ensemble interjections. Parker begins with another remarkable performance, again showing the Hall influence, but also his own more forceful rhythmic attack and creative use of the volume pedal. Dörner is next, starting out with some blustery phrases, and settling into long split tones, and merging the two approaches. Gregorio enters with pretty arpeggiated figures—a sound that he employs masterfully, with traces back to Lennie Tristano and Warne Marsh, with whom he once studied. Lastly, the leader takes the challenge. Even in his freer rhythmic statements Abrams manages to be propulsive, never leaving his role as bassist. As it is across the session, his tone is full and heavy. The background interjections change throughout "Space Modulator," and the final out-statements are freshly composed as well. A miniature masterwork.
The CD closes with another Abrams composition; a ballad showing the same ghostly influences mentioned with regard to "Neb Nimaj Nero". It is possibly the most traditional performance on the disc, with the possible exception of "Background Beneath", and yet it is still obscure in its influences. Parker has another strong solo with Abrams' bass for accompaniment, and then the favor is returned. In inevitable comparison to the famous 70s Jim Hall and Ron Carter duet records, this vignette, and others on Cipher, come up sounding very good.
Delmark Records is celebrating their 50th year of releasing jazz and blues records this year. Cipher is as appropriate an homage to the history of a great record label as could be hoped for—the debut on record of a great quartet, with the history and traditions of the music in hand and feet planted firmly in the present.
One Final Note Review