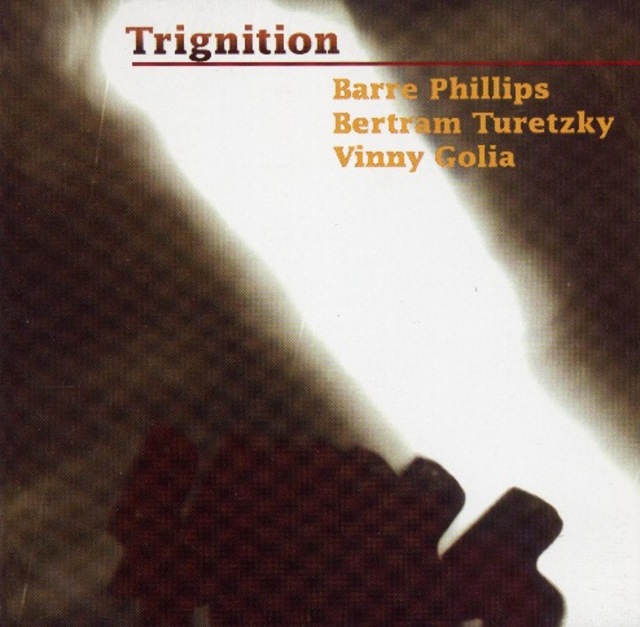 Artist:
Barre Phillips, Bertram Turetzky, Vinny Golia
Album:
Trignition
Genre:
Free Improvisation / Modern Creative
Label:
Nine Winds Records
Released:
1999
Quality:
FLAC (image+.cue)
Tracklist:
The Incomplete Touching of the Ground
Spherics & Whistles
Dale of the Merry Years
Confirmation of Judgement
Inconabular
Bigman, Hugeman!
Saylaa
It Was Probably the Last One To Be Named
Anodyne
DOWNLOAD FROM FILECAT.NET >>>
Personnel:

Barre Phillips - contrabass
Bertram Turetzky - contrabass
Vinny Golia - Eb, Bb bass and contrabass clarinets, soprano and baritone saxophones, suonas
Get two of the finest bassists in the world together in a studio, throw in a fellow who needs to make a half-dozen trips to cart in all his horns, and one has the makings of a good session of improvised music, to be sure. How much one enjoys this outing will depend on whether one appreciates reed player Vinny Golia's approach to playing with bassists, which despite avant-garde trappings is the pretty traditional hornman's stance of playing over the bass. For free improvised music, for example, this could be contrasted with players such as Evan Parker or John Butcher, who design their playing to be heard on an equal footing with the bass, as if all the instruments were involved in creating one big sound. Some listeners may feel that Golia's activity, including some swinging phrases played with a nice touch on his various clarinets, takes away from the impact of bassists Barre Phillips and Bertram Turetzky. It also sometimes changes the focus of the music itself. While the bassists tend to play texturally with many bowed harmonics and knocking sounds, Golia chooses to play quite melodically, his use of sounds almost always tied in with an emotional climax. His work is expressive and heartfelt as always, but he tends to take over, grounding the music with grandly lyrical held notes or cluttering up the atmosphere with rapid runs packed with pitches. Like many jazz-influenced improvisers, he inhabits a netherworld in which the playing of an actual, interesting melody is shunned, while noodling around a scale or mode is not. When the players do convene on certain pitches, an ensemble sound is established, but this hardly represents the potential level of complexity one expects from such major players. The best track is "It Was Probably the Last One to Be Named," in which the delicious sound of the contrabass clarinet inspires much spirited bowing.
Review by Eugene Chadbourne