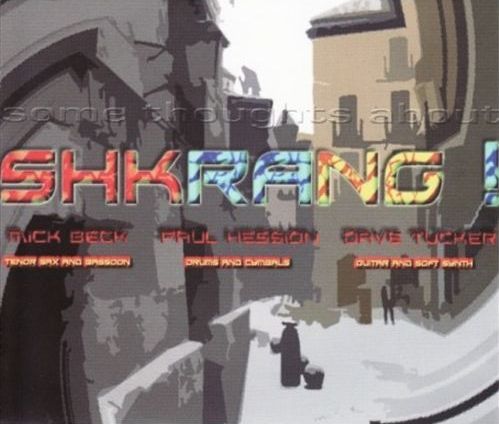 Artist:
Shkrang
Album:
Some Thoughts About Shkrang!
Genre:
Avant-Garde Jazz, Free Improvisation
Label:
Discus Records
Released:
2006
Quality:
FLAC (tracks+.cue)
Tracklist:
Archie Shepp 4:19
Ballroom Dancing 5:38
Washing 6:18
Opera 20:18
Seething 5:14
Study In C Minor 4:23

Personnel:

Mick Beck: tenor sax, amplified bassoon, voice and calls
Dave Tucker: electric guitar, laptop
Paul Hession: drumset
The Beck/Hession duo is legendary for focus and power. Add Dave Tucker's spikey guitar/electronics and there's something striking - could be hammer blows on anvils, or industrial strife. It's unusual and intense. The best of abstract free and wreckless driving.
Culled from concerts given in Spain and England in 2003, embellished by Dave Tucker in studio, the soundscape veers between free and rock, car crashes and dog fights. The Spanish gigs were at a festival in Leon, and 'Musica Libre' in Madrid. Sheffield and Leeds performances provide the English inputs.
Recordings by Dave Tucker, studio production by Dave Tucker and Ian Stead.
Music by Beck / Hession / Tucker ("Shkrang!")
"There isn't an improvising duo in Britain at the moment that can match reed player Beck and drummer Hession for sheer energy and concentration. The addition of Tucker on electric guitar and laptop to the familiar reeds and drums situation in no way dilutes or depletes those characteristics. From the opening onwards, and particularly on the long, roiling "Opera" (which has a great mad scene), they work absolutely as a unit. Tucker has some low string stuffand occasional electronic effects that suggest there's a bass in there somewhere as well, giving some of the pieces an unexpected hint of tonality, which is all to the good. One has to look back as far as early Amalgam to finf free jazz / improv ascompellingly rooted and adventurous as this." - Brian Morton, WIRE
"Surprises abound with each new release from this experimental British ecord label. Here, ace tenor saxophonist Mick Beck incorporates an amplified bassoon into an outing that defies even the most oddball stereotypes. I'd call it something like psycho free-jazz aligned with icrotonal minimalism and garrulous space-rock. Guitarist Dave Tucker adds grunge-rock noise and eerie sounds from his laptop and the band engages in angst, discontent and maniacally centered chaos. But all in good fun, mind you.
Occasionally this free-form trio surfaces as a twisted heavy metal avant garde trio, aided by Paul Hession's blitzing, asymmetrical rhythms. On "Washing," Beck's howling sax lines are framed with Tucker's wacky EFX treatments.
The trio moves about with a neurotic disposition, and all hell breaks oose during several passages. Other spots feature Beck's strange bassoon bellowing along with the drummer's off-kilter interludes, spiced up with whimsical intimations. Then on the lengthy "Opera," the trio works within a supernatural wall-of-sound, aided by Hession's slashing and crashing drum patterns. In essence, the musicians accomplish quite a bit as they morph various genres into an uncanny search and destroy mission. Not for the faint of heart, but an inspiring endeavor where multiplicity and ingenuity attain a triumphant coexistence. A top avant garde pick for 2006."
by Glenn Astarita