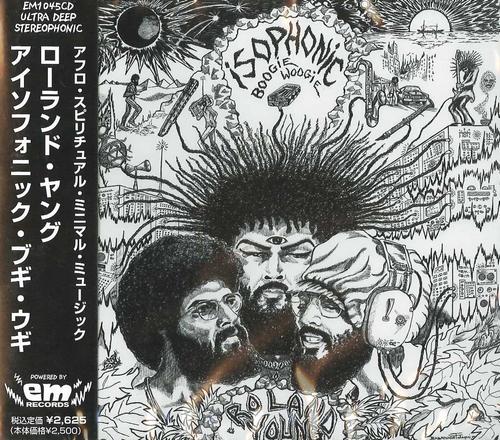 Artist:
Roland P. Young
Album:
Isophonic Boogie Woogie
Genre:
Free Jazz, Minimal, Ambient
Label:
EM Records
Released:
1980/2005
Quality:
FLAC (tracks+.cue)
Tracklist:
Crystal Motions (Kalimba, voice & soprano saxophone) - 14:49
Flutter Fly Flounce (Clarinet) - 1:53
Row Land (Electronic bass clarinet) - 7:38
Loveliness (Bells, chimes, electronic drone, soprano saxophone) - 15:30
Velvet Dream (Electronic bass clarinet) - 13:35
Magenta Sky (Electronic acountrements, soprano saxophone) - 6:42
Stillness (Electronic pulse & drone, clarinet) - 8:13
DOWNLOAD FROM FILECAT.NET >>>
Some highly idiosyncratic improvisations and electronic manipulations from wind instrument experimentalist Roland P. Young, from an album originally released in 1980. Young gets off to a great start with 'Crystal Motions' a joyful fifteen minutes of soprano sax, kalimba and voice all bundled into a single, pleasing electroacoustic package. It's one of several extended pieces that nicely balances extended passages of off-the-cuff musical dexterity with a neatly administered electronic order. It all goes slightly off course at the eleventh hour however, with the slightly too-eighties sounding first bonus track 'Magenta Sky' - it is only a bonus track though, so we should let him off. It's a last minute hiccup mirrored by a quotation from Young, as reproduced on the inlay booklet: at first the artist sets himself up as a great broker of wisdom, throwing quasi-profundities about the place: "Make yourself small and you will be great. Know you are nothing and you will be infinite." Very sagely I'm sure, but then he self-sabotages his Confucian tone at the very end, continuing: "At the very least, don't make such a big deal of yourself." As is true of the record itself, the fumbled conclusion is only a slight diversion from how coherent and confident Young is, and for those first five pieces comprising the original album you'll be hanging on to every breath.