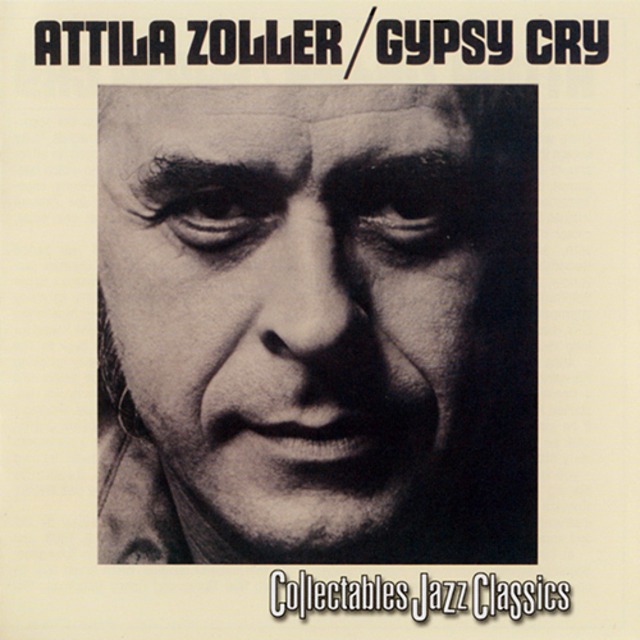 Artist:
Attila Zoller
Album:
Gypsy Cry
Genre:
Post-Bop
Label:
Atlantic/Collectables Records
Released:
1969/2001
Quality:
FLAC (tracks+.cue)
Tracklist:
Wild Wild Wes (2:43)
Another Kind Of Love (4:08)
Horns (4:00)
Meet In Berlin (4:49)
The Birds And The Bees (3:51)
Alicia's Lullaby (5:17)
At Twilight (3:48)
Gypsy Cry (8:00)
Sweet Hustler (3:36)

Personnel:

Attila Zoller - guitar
Herbie Hancock - electric piano, piano
Victor Gaskin - bass
Sonny Brown - drums
Lew Tabackin - tarogato
Reggie Workman - bass
Hungarian-born guitarist Attila Zoller was perhaps the least-known guitarist in jazz to the general public. His 50-year-long career, which ended with his death in January of 1998, was filled with professional heights and the wide acclaim of his peers and bandmates, who included at various times: Joe Zawinul (back in Budapest), Lee Konitz, Red Norvo, Benny Goodman, Ron Carter, Tal Farlow, Herbie Mann, Herbie Hancock (who is the pianist on the this date), and others too numerous to mention here. This set is comprised of two dates, both of them recorded in 1970. Hancock plays both acoustic and electric piano.
He was struggling to find his new voice after semi-leaving the Miles Davis band to go on his own; Victor Gaskin and Reggie Workman both play bass for reasons that shall be explained in a moment, Lew Tabakin joins on a track or two, and so does drummer Sonny Brown, who disappeared from the face of the jazz world shortly after these sessions. Produced by Mann, the music here is divided into two distinct camps: the "commercial" music as Zoller called it in cadence, music that was in some way accessible to people as jazz, and his freer music, the music that was inspired by Ornette Coleman and Don Cherry, two of his classmates at the Lenox, MA, jazz school. It hardly matters, however, because Zoller wrote all the material here. From his warm and breezy "Wild Wild Wes," which is a tribute to the late guitarist, and his open string chord voicings to the knotty electric charge of "Meet in Berlin" that features Hancock riffing away on the electric piano and trading eights with Zoller, to the gorgeous title track built on Hungarian folk melodies, Zoller's tone is always just on the soft side of raw; it is edgy and full of passion and pain no matter how smooth his chords or riffs were. He could go around edges but never completely round them off. On the funky "Sweet Hustler," which ends the album, Zoller's stinging runs turn around the entire harmonic structure of the tune, even though it's just a funky soul jam. He manages to move through the chord progression turnaround and slip the melody inside out, changing both harmonic and lyrical concerns from straight singing lines into modal intervals. This was Attila Zoller just doing his thing, and on Gypsy Cry he was at his best doing it. This album is a kind of groove-jazz masterpiece. One more word on the Collectables jazz reissues series, called the Collectables Jazz Classics. It's true that many of the titles in this series are lesser-known works, far from the standard canonic lines that make labels like Blue Note or Fantasy's original jazz classics or even Verve such trademarks. But that should matter little because the route Collectables has taken is to insure that very deserving recordings like this one or any one of dozens of others gets the decent presentation, good liner notes, and fine sound it deserves in reissue. In fact, Collectables is doing in its own way what may other labels should have been doing a long time ago: the research to seek out the finest and most overlooked records and get them out onto the marketplace at a price where they can either be reconsidered by those who may have overlooked them, found at last by the few that revered and treasured them in the first place, or discovered in the first place by an entirely new generation of jazz fans. Bravo.