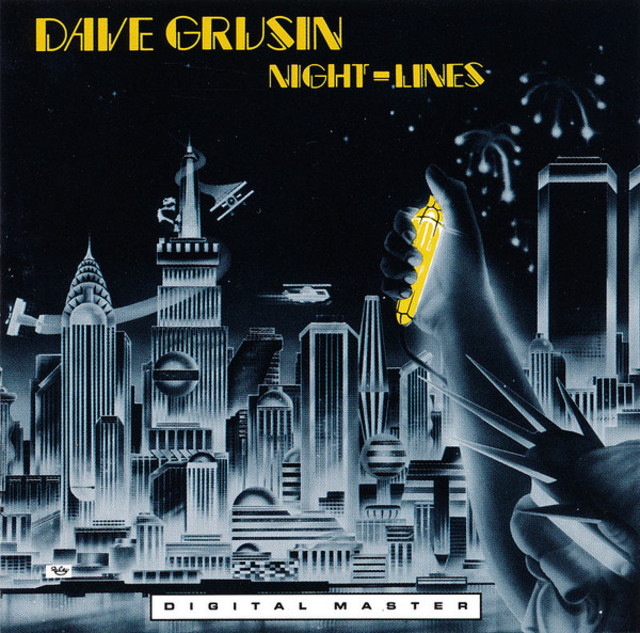 Artist:
Dave Grusin
Album:
Night-Lines
Genre:
Contemporary Jazz / Fusion
Label:
GRP Records
Released:
1984
Quality:
APE (image+.cue)
Tracklist:
Power Wave (5:11)
Thankful N' Thoughtful (4:11)
Theme From 'St. Elsewhere' (4:15)
Haunting Me (5:07)
Secret Place (From 'Racing With The Moon') (3:35)
Night-Lines (5:06)
Tick Tock (4:17)
Kitchen Dance (4:02)
Somewhere Between Old And New York (4:35)
Bossa Baroque (4:22)

Personnel:

Dave Grusin — Keyboards
Phoebe Snow — Vocals
David Sanborn — Saxophone
Lincoln Goines — Guitar
Ed Walsh — Fairlight, Synthesizer
Marcus Miller — Bass
Buddy Williams — Drums
Rubens Bassini — Percussion
Randy Goodrum — Vocals (Background)
Gary Roda — Vocals (Background)
Dave Grusin has been a highly successful performer, producer, composer, record label executive, arranger, and bandleader. His piano playing ranges from mildly challenging to competent to routine, but he's primarily an accomplished film and television soundtrack composer. Grusin played with Terry Gibbs and Johnny Smith while studying at the University of Colorado. He was the assistant music director and pianist for Andy Williams from 1959 to 1966, and then started his television composing career. Grusin recorded with Benny Goodman in 1960 and recorded with a hard bop trio who included Milt Hinton and Don Lamond in the early '60s. He also played and did a session with a quintet including Thad Jones and Frank Foster. Grusin did arrangements and recorded with Sarah Vaughan, Quincy Jones, and Carmen McRae in the early '70s. He played electric keyboards with Gerry Mulligan and Lee Ritenour in the mid-'70s, then helped to establish GRP Records out of a production company. GRP developed into one of the top contemporary jazz and fusion companies; they were later taken over by Arista, then by MCA. Grusin continued recording through the '80s and '90s, doing numerous projects, from fusion and pop to working with symphony orchestras. He has also conducted the GRP Big Band, scored such films as The Fabulous Baker Boys, and performed duet sessions with his brother, Don, and Ritenour. In addition to his numerous GRP releases, Grusin has also recorded for Columbia, Sheffield Lab, and Polygram.