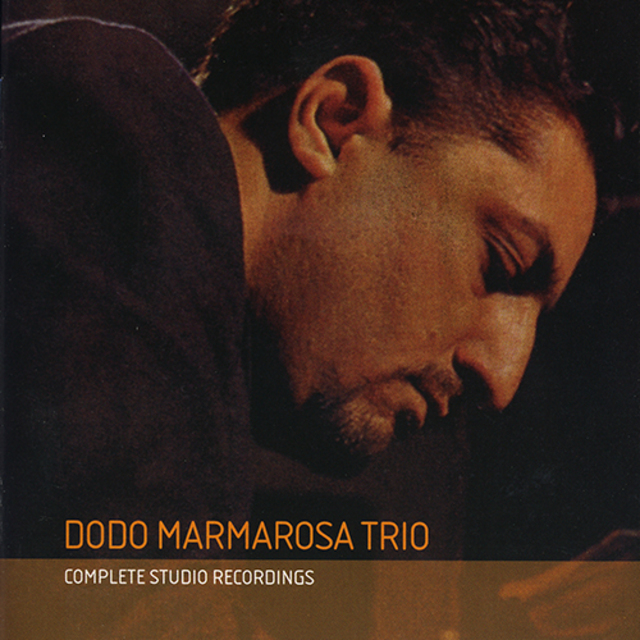 Artist:
Dodo Marmarosa Trio
Album:
Complete Studio Recordings
Genre:
Bop
Label:
Lone Hill Jazz
Released:
2004
Quality:
FLAC (tracks+.cue)
Tracklist:
CD 1:



Mellow Mood (3:15)
Dodo's Blues (3:15)
Raindrops (2:49)
I've Got News For You (3:02)
Compadoo (2:20)
I'm In Love (2:37)
Opus No. 5 (1:48)
You Thrill Me So (2:47)
Dodo's Bounce (1:44)
Escape (1:44)
Lover Come Back To Me (2:51)
Raindrops (2:12)
Smoke Gets In Your Eyes (2:41)
Bopmatism (1:24)
Bopmatism (2:57)
Dodo's Dance (3:08)
Trade Winds (3:10)
Dary Departs (2:38)
Cosmo Street (2:55)
My Foolish Heart (2:38)
Blue Room (3:07)
Why Was I Born (3:15)
The Night Is Young (2:51)
Bopmatism (bonus track) (alternate take) (3:09)
Dodo's Dance (bonus track) (alternate take) (3:07)
Trade Winds (bonus track) (alternate take) (3:07)
Dary Departs (bonus track) (alternate take) (2:47)
Dary Departs (bonus track) (alternate take) (2:46)
Cosmo Street (bonus track) (alternate take) (3:26)
CD 2:



April Played The Fiddle (4:09)
Why Do I Love You (3:22)
Everything Happens To Me (4:42)
Me And My Shadow (4:07)
On Green Dolphin Street (3:18)
Tracy's Blues (3:39)
You Call It Madness (3:58)
Mellow Mood (3:59)
I Thought About You (5:32)
A Cottage For Sale (4:59)
The Song Is You (7:33)
Just Friends (5:20)
Yardbird Suite (4:21)
I Remember You (3:42)
The Moody Blues (4:11)
The Very Thought Of You (4:05)
Yardbird Suite (bonus track) (alternate take) (3:51)

Even if comparisons with Lennie Tristano, Al Haig and Bud Powell are inevitable, Dodo Marmarosa's music has a surrealistic imprint essentially unlike that of any other pianist in or out of bop. In honor of this cardinal truth, the Lone Hill Jazz label has come forward with the Complete Studio Recordings of the Dodo Marmarosa Trio (including alternate takes), bringing together three different West Coast sessions from 1946 and 1947, four selections waxed in his home town of Pittsburgh in 1950, and an entire second disc's worth of mature Marmarosa material recorded in Chicago in 1961 and 1962.
The instrumentation is well worth scrutinizing; the two earliest tracks, dated January 11, 1946, involved bassist Ray Brown and drummer Jackie Mills. Tracks three through 14, waxed on or after September 23, 1946, had no drummer – only guitarist Barney Kessel and bassist Gene Englund played with the pianist. A rare example of Dodo the vocalist, "I've Got News for You" was originally released on the Atomic record label. The bedrock of this man's musical legacy is a series of sides recorded for the Dial label in Los Angeles on December 3, 1947 (disc one, tracks 15-19 and 24-29). The first cascading bars of "Bopmatism" plunge the listener into an intoxicating groove from which there is no retreat. Here Dodo worked with Harry Babasin, a bassist who doubled on the cello, and once again percussionist Jackie Mills. The Pittsburgh Savoy session found the pianist in the company of bassist Thomas Mandrus and drummer Joe Wallace. More than ten years fraught with personal crises passed before Dodo Marmarosa, by then operating in Chicago, recorded again in a studio with a trio. On May 9 and 10, 1961, the pianist recorded ten tracks with bassist Richard Evans and drummer Marshall Thompson. Almost exactly one year later, on May 4, 1962, seven additional performances were waxed with the great Sam Jones replacing Evans. Both those who are just discovering Marmarosa's music and seasoned jazzheads who are mainly familiar with his earlier work will find this raft of latter-day Dodo a treasure well worth savoring time and again.