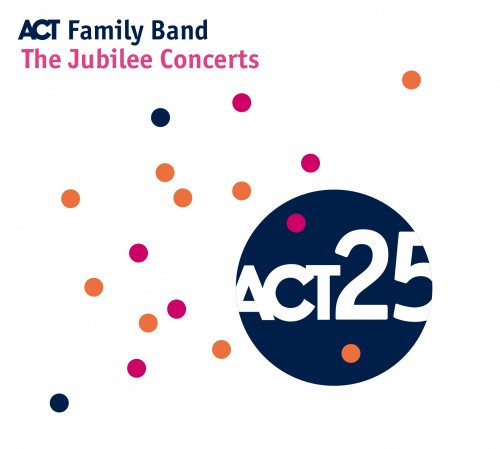 Artist:
ACT Family Band
Album:
The Jubilee Concerts
Genre:
Post-Bop, Contemporary Jazz
Label:
ACT Music
Released:
2017
Quality:
FLAC (tracks)
Tracklist:
Nils Landgren - Send in the Clowns 5:12
Nils Landgren - Walk Tall 5:45
Dieter Ilg - Savannah Samurai 6:25
Lars Danielsson - Suffering 9:26
Joachim Kühn - Missing a Page 6:43
Adam Baldych - Quo Vadis 10:19
Emile Parisien - B&H 12:16
Iiro Rantala - Dodge the Dodo 7:25
ACT Family Band - We Are Family 5:34
DOWNLOAD FROM FILECAT.NET >>>
This album was recorded live in concert at The "Konzerthaus" Berlin on 2nd April 2017 to celebrate 25 years of Siggi Loch's ACT record label. Over twenty artists took part in various combinations offering the listener some live covers from recent studio albums plus some new material and the chance to hear combinations of musicians in fresh settings. The album makes a fine pairing with "Twenty Five Magic Years" (ACT 9850-2) which contains selected studio recording output over the last few years and was reviewed in our May listings.
The recording on offer covers nearly seventy minutes of proceedings in front of a clearly large and appreciative audience. Things start off gently with the understated voice and trombone of Nils Landgren alongside Michael Wollny's exquisite piano in a rendition of "Send In The Clowns" from Stephen Sondheim's 1973 adaption of Ingmar Bergman's A Little Night Music. The scene changes dramatically as the duo are joined by guitar, bass and drums for the adventurous "Walk Tall ", a piece partly composed by Joe Zawinul, with both the music and atmosphere at Rock Concert level as the Ulf Wakenius guitar sound jousts with Landgren's energetic trombone before the pianist, now in strident mode, joins the party. The odds had to be stacked against a six minute bass duet but Dieter Ilg and Lars Danielsson just about pulled this one off with "Savannah Samuri" although from the audience reaction there was a strong visual aspect to the performance.
Pianist Iiro Rantala and guitarist Nguyen Le joined those who had already been on stage for the Lars Danielsson composition "Suffering", which given it's title carried a strongly optimistic line. The beauty of Le's guitar led the way before Landgren's trombone sound, now back to it's silken best, added colour while the composers cello, gave a depth to this remarkable piece whose melodic line never wavered over the full nine minutes. Another duo performance featured pianist Joachim Kuhn, with his own composition "Missing A Page" alongside the soprano of Emile Parisen. This was full of quick fire exchanges and intimate musical conversation but no melody as such, the sheer quality of the musician seemed more than enough for the enthusiastic gathering. "Quo Vadis" the brainchild of the late Polish violinist Zbignieu Seifert here in a quartet version, dominated by the violin of Adam Baldych, was performed in a rather aimless folksy manner, never really making it's point or engaging the Berlin crowd. In sharp contrast "B & H", lifted from Out Of Land (ACT 9832-2) and reviewed by us last month, was as magnificent as the studio version with Andreas Shaerer, Emile Parisien, Michael Wollny and exuberant accordion from Vincent Peiriani only just keeping the roof on the Konzerthaus.
Everyone would have expected something in memory of the late magician of the piano Esbjorn Svensson, and on this occasion it was an octet version of "Dodge The Dodo" first introduced on the E.S.T. album From Gagarin's Point Of View in 1999. The setting was upbeat and almost orchestral on Magnus Lindren's arrangement featuring himself on flute alongside wailing guitar from Ulf Wakenius both of which added new dimensions to the piece but did not reach the creative heights of the original or the Stockholm Philharmonic version of 2016. The concert concluded naturally with eighteen of the ACT house musicians, including four singers coming together with their rendition the old Sister Sledge anthem "We Are Family". Overall it sounded like a great show, many highlights and just a couple of low's which is more than acceptable from a recording label that is constantly pushing the boundaries of creative music.