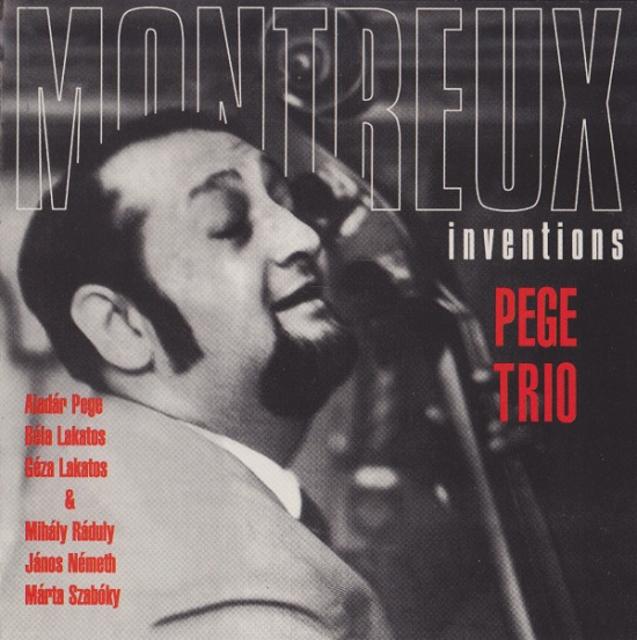 Artist:
Pege Trio
Album:
Montreux Inventions
Genre:
Chamber Jazz
Label:
Hungaroton Gong Ltd.
Released:
1997
Quality:
FLAC (tracks+.cue)
Tracklist:
Falling Leaves
Impressions
Scherzo
Róna Blues
Montreux Inventions
Moon River
I Could Have Dance All Night (My Fair Lady)
Peter
Baby Car

Personnel:

Aladar Pege - bass, cello
Bela 'Szakcsi' Lakatos - piano, org.
Geza 'Pecek' Lakatos - drums
Mihaly Raduly - tenor sax, flute,
Janos Nemeth - tenor sax
Marta Szaboky - piano
Pege's jazz ensemble, which he formed in 1963, gained quick international recognition and his 1982 appearance at New York's Carnegie Hall with Herbie Hancock was widely acclaimed. Sue Mingus, the widow of American jazz bassist Charlie Mingus, subsequently gave Pege her late husband's instrument. Before that, Pege had been named the "Festival Virtuoso" at a jazz event in Prague in 1964, and "Europe's Best Soloist" at the 1970 Montreux, Switzerland, jazz festival. His most memorable performances included virtuoso duet recordings with pianist Walter Norris and tours with Mingus Dynasty. He also played with Art Farmer, Albert Mangelsdorff and Dexter Gordon. A dazzling player with deep knowledge of the capacities of his instrument, critics called Pege the "Paganini of the bass," after violin virtuoso Nicolo Paganini. Pege moved in his later years to classical works, often transcribing and performing pieces written for other instruments because of the bass' limited solo repertoire. Born into a family of Gypsy musicians in Budapest on Oct. 8, 1939, Pege did not start playing the bass until age 15. But he quickly grabbed the attention of teachers at the Bartok Bela Musical Training College and fellow musicians he freelanced with in jazz groups. After finishing his studies at the Liszt Ferenc Music Academy in Budapest in 1969, Pege became a teaching assistant and later a professor at the school. Among those he studied with was Rainer Zappernitz, the solo bassist under Herbert von Karajan with the Berlin Philharmonic in West Berlin during the 1970s.