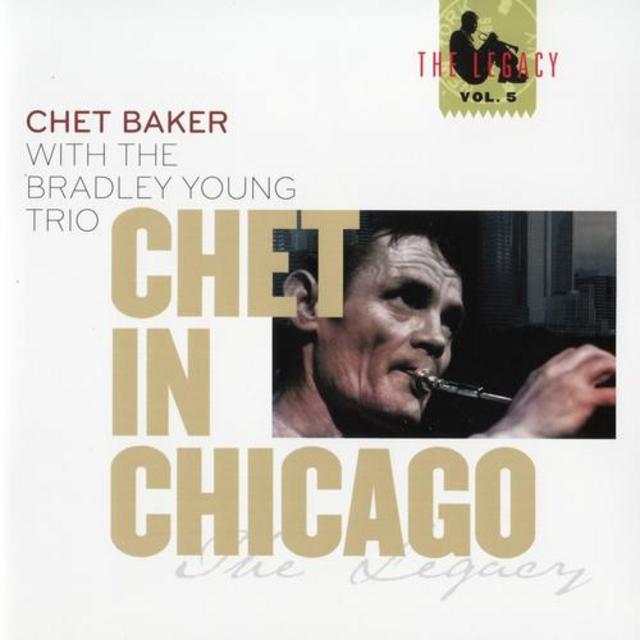 Artist:
Chet Baker with the Bradley Young Trio
Album:
Chet in Chicago
Genre:
Cool, West Coast Jazz
Label:
Enja Records
Released:
1986/2008
Quality:
FLAC (tracks+.cue)
Tracklist:
Old Devil Moon (Lane-Harburg) - 9:19
It's You or No One (Styne-Cahn) - 6:47
We'll Be Together Again (Fischer-Laine) - 7:13
Ornithology (Harris) - 7:41
Crazy Rhythm (Meyer-Kahn-Caesar) - 5:13
My Funny Valentine (Rodgers-Hart) - 6:28
Sippin' at Bells (Davis) - 5:48
Solar (Davis) - 6:01

Personnel:

Chet Baker - trumpet, vocal
Bradley Young - piano
Larry Gray - bass
Rusty Jones - drums
Ed Petersen - tenor saxophone (#4,5,7)
For much of the last two decades of his life, Chet Baker seemed to go in the studios so often that one never knew what to expect. The results were a crapshoot, depending on whether or not Baker was suffering the effects of his drug addiction at the time. Fortunately, his friendship with Chicago-based pianist Bradley Young in the early 1980s gave the younger man an opportunity to sit in with the trumpeter. As a result, Young impulsively suggested a record date during a return engagement in 1986, which Baker accepted, though everything had to come together quickly within two days, including finding a studio and assembling a band. Oddly enough, everything works, from the fine rhythm section (bassist Larry Gray and drummer Rusty Jones) to the performance of the standards and jazz tunes that had long been a part of Baker's repertoire. Baker is in good form on his horn and seems stimulated by the local rhythm section, particularly in the brisk treatment of "Old Devil Moon," the dreamy "We'll Be Together Again," and the burning rendition of "Solar." Baker adds his trademarked fragile vocals to yet another take of "My Funny Valentine," while tenor saxophonist Ed Peterson is a valuable guest on several tracks, including a breezy "Ornithology." In spite of the many Chet Baker CDs to choose from that were made in the '80s, this disc is one of his better efforts in that era.
Review by Ken Dryden