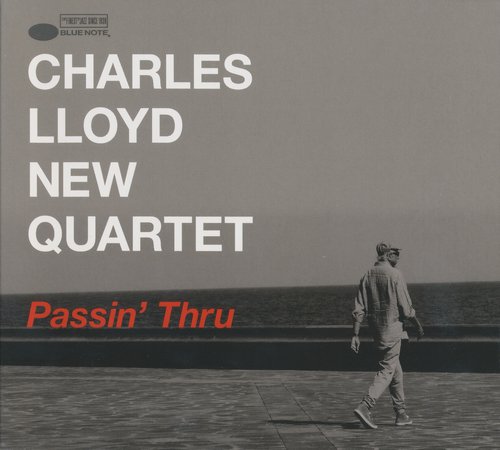 Artist:
Charles Lloyd New Quartet
Album:
Passin' Thru
Genre:
Post-Bop, Contemporary Jazz
Label:
Blue Note
Released:
2017
Quality:
FLAC (tracks+.cue)
Tracklist:
Dream Weaver (Lloyd) - 17:46
Part 5, Ruminations (Lloyd) - 11:55
Nu Blues (Lloyd) - 11:51
How Can I Tell You (Lloyd) - 9:46
Tagore on the Delta (Lloyd) - 7:45
Passin' Thru (Lloyd) - 7:22
Shiva Player (Lloyd) - 8:25
DOWNLOAD FROM FILECAT.NET >>>
Personnel:

Charles Lloyd - saxophone, flute
Jason Moran - piano
Reuben Rogers - bass
Eric Harland - drums
Though the Charles Lloyd New Quartet has been together for a decade, they haven't recorded as a group since 2011's Athens Concert, when the saxophonist was still signed to ECM. Bassist Reuben Rogers and drummer Eric Harland were part of the Marvels' quintet for I Long to See You in 2016, and Lloyd most recently recorded with pianist Jason Moran on the duet offering Hagar's Song (also issued by ECM) in 2013. But not recording together doesn't mean the same thing as not playing, as amply evidenced here.
Passin' Thru finds the great saxophonist looking back through his catalog as well as offering new material. Set-opener "Dream Weaver," the set's longest track, served as the title cut of Lloyd's very first quartet leader date in 1966 (with Keith Jarrett, Jack DeJohnette, and bassist Cecil McBee). It is also the outlier in terms of locale, recorded at the Montreux Jazz Festival while the remainder was captured at The Lensic in Sante Fe. This version commences with a modal, post-Coltrane intro as the saxophonist explores tones and space before Harland checks into its groove, one that touches on blues, folk music, a pop-style chorus and gospel before moving off to explore Eastern modalities, post-bop, and (some) dissonance before circling back to its lovely melody. "Nu Blues" is a striking fingerpopper that flirts with bop and R&B as well as the outside, giving plenty of room to Moran's fluid, virtuosic pianism and Harland's hard-swinging drum inventions as Rogers walks the hell out of his bass. His bassline introduces the bluesy "Tagore on the Delta." Moran spends its first half strumming the instruments strings zither-like as Lloyd digs deep into the groove with his flute, finding heat in Harland's heavy snare and hi-hat attack. At the midpoint, Moran moves to the keys and delivers a mean, meaty solo. The title track dates to 1963. Lloyd first recorded it as a member of the Chico Hamilton Quintet. Rogers opens it alternately plucking and strumming his strings, flirting with blues as well as modalism before Harland enters in double time, playing rim shots and accents. Moran adds a popping a chordal pattern before Lloyd enters and moves to the center, offering it as a quick, dance-like excursion into bop. Moran's solo is equal parts lightning and grace while Rogers engages him in trading fours before Lloyd -- ever the generous bandleader -- inspired by Harland, duets with him in startling feat of athletic lyricism. While this heart stopper could easily have been the album closer, it finishes with "Shiva's Prayer": a droning, abstracted meditative piece that includes lovely arco playing from Rogers. At 79, Lloyd shows no signs of slowing down. On Passin Thru', his quartet delivers a truckload of joy, grit, grace, and passion.
Review by Thom Jurek