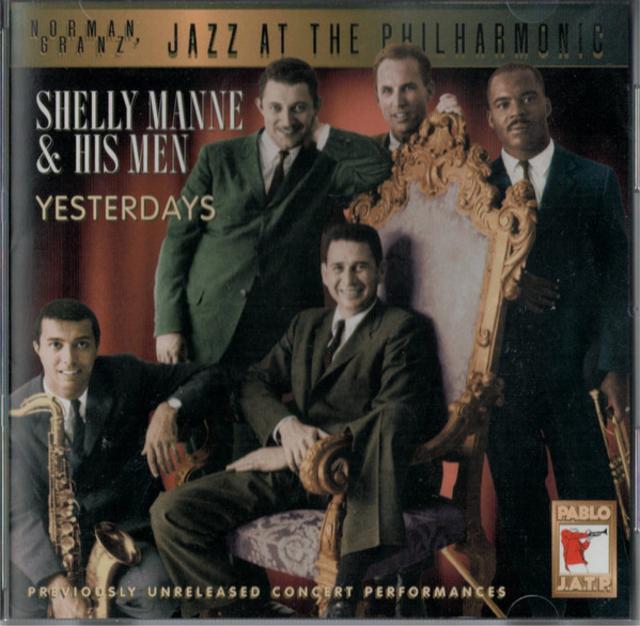 Artist:
Shelly Manne and His Men
Album:
Yesterdays
Genre:
Cool
Label:
Pablo Records
Released:
2003
Quality:
FLAC (tracks+.cue)
Tracklist:
Cabu 6:23
Bag's Groove 12:54
Poiciana 7:23
Straight No Chaser 8:08
Yesterdays 7:58
DOWNLOAD FROM FILECAT.NET >>>
Personnel:

Shelly Manne - drums.
Joe Gordon - trumpet.
Richie Kamuca - tenor saxophone.
Russ Freeman - piano.
Monty Budwig - bass
Shelly Manne, who died suddenly of a heart attack on September 26, 1984, left behind an impressive body of recorded work as a leader and sideman. Like Dave Tough, one of his formative influences, Manne was a musician first and drummer second. Evincing an unusually nuanced approach to the trap set, he had no interest in technique for its own sake, instead tailoring his sticking and footwork to the demands of bands of varying sizes and instrumentation—sometimes even working without a bass player. Every stroke was true and had a purpose. Moreover, Manne thought and played in melodic as well as rhythmic terms, often adapting accompaniment to a composition's melody, and singing along with his own solos.
An uncommonly versatile performer who was equally at home in a number of jazz styles (from Art Hodes to Ornette Coleman, as he once proudly declared), Manne had an extraordinary talent for getting to the heart of the music, and making an ensemble swing in a natural, unforced manner. Aside from the selfless nature of his musicianship, Manne's playing is filled with unusual sounds—such as drumming with his fingers and hands, dropping a coin on a drumhead, damping drums with a hand in order to bend the pitch of strokes, or simply not playing at all. These were not circus tricks, but rather integral parts of his vocabulary that functioned as part of the music.
Consisting of previously unreleased tracks from Jazz At The Philharmonic concerts in Europe during February and March of 1960, Yesterdays is another first-rate addition to Manne's discography. The antithesis of the crowd-pleasing antics that frequently characterized the JATP tours, his superb quintet shuns excess and radiates a joyful enthusiasm. Firmly lodged in the swing-to-bebop stylistic continuum, the band's excellent musicianship, attention to detail, and willingness to consistently make changes within certain parameters, make the music lively and interesting. There's a sense of balance between carefully arranged ensemble passages and solos which are usually kept to 3 to 5 choruses; background riffs are often used for color as well as to spur the soloist; the rhythm section is steadfast, responsive, and always finds ways to add something fresh to the presentation; moreover, the band displays a wide dynamic range.
While all of the recording's three primary soloists develop themes logically, each of them makes an impact in a different way. On the title track, pianist Russ Freeman, a cautious—almost polite—bebopper, begins his solo unhurriedly; at first playing lines that fit with bassist Monty Budwig's pulse on beats 1 and 3 of each measure, then gradually becomes more expansive. Expertly riding Manne and Budwig's foursquare swing, his melodically inventive themes continue to build in strength as the choruses mount; yet, Freeman doesn't reach for a rousing climax. Instead, he simply yields to tenor saxophonist Richie Kamuca.
Not unlike Freeman, Joe Gordon's five choruses on Milt Jackson's "Bag's Groove" are thoughtful and measured; nonetheless he manages to generate considerable heat. Gordon and Freeman bounce variations of triplet figures off one another on the first chorus; then the trumpeter settles in for some impassioned blues playing for the next two, showing off his fine, full tone, and well-ordered phrasing. When the band accents beats 1,2 and 3 in unison for the next 12 bars, Gordon brings down the volume and becomes a little subdued before rising again with some powerful bebop lines, then eases his way to the finish line.
There's something unrelentingly efficient in the way Richie Kamuca keeps on churning out variations of eighth-note lines during his solo on an up-tempo version of the standard "Poinciana." The tenor saxophonist is in constant motion, sustaining a four-chorus improvisation almost without interruption, and feeding off of everything that's going on around him. During this incessant, albeit calculated burst of energy, he displays a heightened awareness of where the pulse is, without feeling the need to always begin and end sequences on top of the beat. He flies over a Gordon riff that sounds like an abbreviated version of one of his phrases, and when Freeman lays out for the last two choruses, Kamuca isn't thrown by Manne's choppy, ground-shifting hits to the bass and snare drums.
In addition to his customary reliable accompaniment, Manne serves as a catalyst for some of the record's most exciting moments. Toward the end of "Bags' Groove," he executes a continuous buzz roll over Budwig and Freeman's laid-back, 12-measure promenade. Beginning at just a whisper and gradually working up to a roar, Manne creates an incredible amount of tension, setting the stage for a shout chorus by the whole band that explodes like a bomb.
Manne, the anti-virtuoso, shapes a short, rubato introduction out of portions from the melody of Thelonious Monk's "Straight, No Chaser." Interspersing clusters of strokes (particularly the opening five-note phrase) to different combinations of drums (and a partially opened hi-hat cymbal) with brief silences, he brilliantly captures the spirit of the composition, and sounds nothing like a traditional, go for broke drum soloist. Almost before you can grasp the logic of what he's doing it's over. The band enters to play the melody in its original, fully recognizable form, and Manne reverts to his normal, crisply swinging ways.