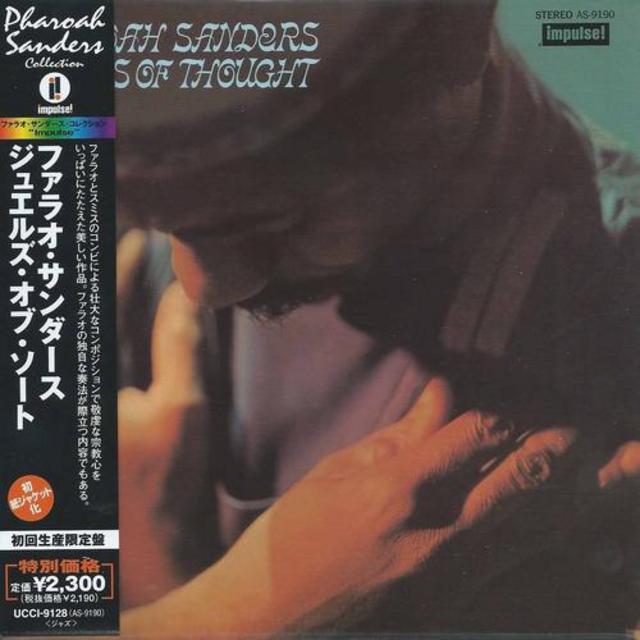 Artist:
Pharoah Sanders
Album:
Jewels of Thought
Genre:
Modal Music, Free Jazz
Label:
Impulse!/Universal
Released:
1969/2007
Quality:
FLAC (tracks+.cue)
Tracklist:
Hum-Allah-Hum-Allah-Hum-Allah (Sanders-Smith-Thomas) - 15:08
Sun in Aquarius (Sanders-Smith) - 27:51
DOWNLOAD FROM FILECAT.NET >>>
Personnel:

Pharoah Sanders – tenor saxophone, contrabass clarinet, reed flute, kalimba, orchestra chimes, percussion
Leon Thomas – vocals, percussion
Lonnie Liston Smith – piano, African flute, kalimba, percussion
Cecil McBee, Richard Davis (#2) – bass, percussion
Idris Muhammad – drums, percussion
Roy Haynes – drums (#1)
In 1969, Pharoah Sanders was incredibly active, recording no less than four albums and releasing three. The band on Jewels of Thought is largely the same as on Deaf Dumb Blind and Karma, with a few changes. Idris Muhammad has, with the exception of "Hum-Allah-Hum-Allah Hum Allah," replaced Roy Haynes, and Richard Davis has permanently replaced Reggie Workman and Ron Carter, though Cecil McBee is still present for the extra bottom sound. Leon Thomas and his trademark holy warble are in the house, as is Lonnie Liston Smith. Comprised of two long cuts, the aforementioned and "Sun in Aquarius," Jewels of Thought sees Sanders moving out from his signature tenor for the first time and delving deeply into reed flutes and bass clarinet. The plethora of percussion instruments utilized by everyone is, as expected, part of the mix. "Hum-Allah" begins with a two-chord piano vamp by Smith and Thomas singing and yodeling his way into the band's improvisational space. For 12 minutes, Sanders and company mix it up -- especially the drummers -- whipping it first quietly down into the most pure melodic essences of Smith's solo and then taking the tension and building to ecstatic heights with all manner of blowing and intervallic interaction between the various elements until it just explodes, before coming down in pieces and settling into a hush of melodic frames and the same two-chord vamp. On "Sun in Aquarius," African thumb pianos, reed flutes, sundry percussion, and orchestra chimes are employed to dislocate all notions of Western music. Things get very quiet (though there is constant motion); the innards of the piano are brushed and hammered quietly before Sanders comes roaring out of the tense silence with his bass clarinet, and then the tenor and bass share an intertwined solo and Smith starts kicking ass with impossibly large chords. It moves into another two-chord vamp at the end of 27 minutes, to be taken out as a closed prayer. It's more like a finished exorcism, actually, but it is one of the most astonishing pieces by Sanders ever.
Review by Thom Jurek