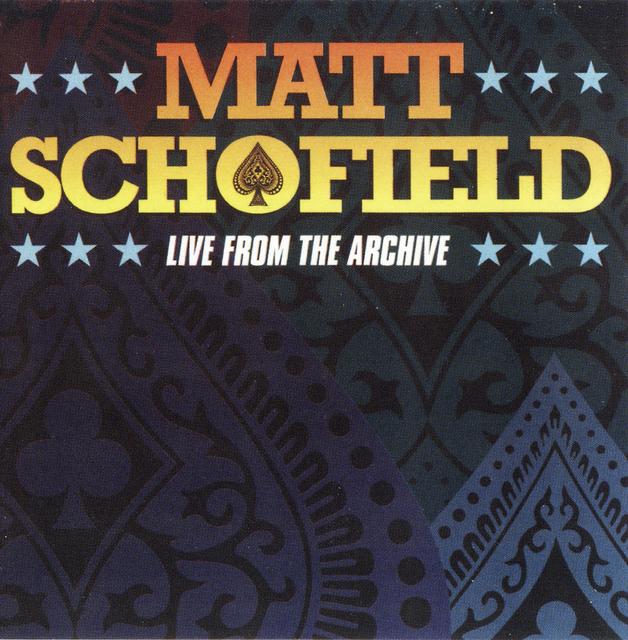 Artist:
Matt Schofield
Album:
Live From the Archive
Genre:
Blues Rock
Label:
Nugene Records
Released:
2010
Quality:
APE (image+.cue)
Tracklist:
All You Need 6:13
Siftin' Thru Ashes 6:15
Band Intro 0:47
Lights Are On But Nobody's Home 10:37
Room At The Back 4:18
On My Way 6:14
Black Cat Bone 9:51
Sitting On Top Of The World 7:15
The Letter 18:47

Recorded live without overdubs or sweetening in the Netherlands, this 2007 date was first made available in 2010 to coincide with Matt Schofield's U.S. and Canadian tour. The trio format works efficiently for the U.K. guitarist as keyboardist Jonny Henderson also picks up the basslines. Henderson's organ lines mixed with Schofield's guitar are a combustible combination that makes this trio sound like a larger band. The effect is a blues-jazz hybrid, heavier on the former, that allows Schofield to strut his stuff on extended versions of songs. That's a distinct change from his studio albums, where his sharp guitar solos are compact and in service of the tune. While that's an appropriate avenue to follow in the more confined environment of the studio, the live setting lets Schofield unwind and show just how powerful and accomplished a soloist he is. He's impressive on relatively short, six-minute workouts such as the sleazy shuffle of "On My Way," but is nothing short of explosive when charging through a ten-minute version of Albert Collins' "Lights Are on But Nobody's Home" and a set-closing, near 20-minute cover of the Box Tops/Joe Cocker hit "The Letter." His tone shifts from smooth to biting, often within minutes, and his sense of timing makes his playing tough and taut yet fluid. He's a better guitarist than vocalist, but puts across the songs with conviction and never tries too hard or oversings. Echoes of Hendrix open "Siftin' Thru Ashes" and Schofield even references "Smoke on the Water"'s classic riff in the improv section of "The Letter," all of which shows how much fun he's having unwinding at his own pace. The sound is crisp and as sharp as the playing and the audience stays in the background where it belongs, making this a near-perfect live recording, even granting the practically inevitable drum solo. It's a terrific concert album that captures a hot band nailing its groove with intensity and professionalism.
Review by Hal Horowitz