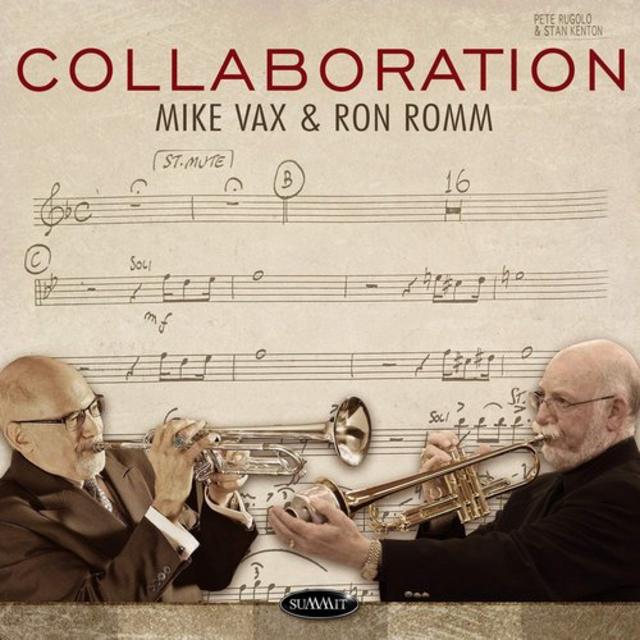 Artist:
Mike Vax & Ron Romm
Album:
Collaboration
Genre:
Swing, Bop
Label:
Summit Records
Released:
2018
Quality:
FLAC (tracks+.cue)
Tracklist:
The Shadow of Your Smile (Mandel) - 7:24
Cornet Chop Suey (Armstrong) - 3:31
My Pal Yachee (Leoncavallo) - 3:11
I Remember Clifford (Golson) - 3:40
Up Jumped Spring (Hubbard) - 3:04
Haydn Trumpet Concerto, Mvt. Two Andante (Haydn) - 3:46
Collaboration (Kenton-Rugolo) - 4:55
Lenny Leaps Out (Niehaus) - 3:15
The Brave Matador (Guscan) - 3:23
Just a Closer Walk with Thee (Trad.) - 5:02
The Summer Knows (Theme from Summer of '42) (Legrand) - 6:14
Sweet Emma (Adderley) - 7:45

A collaboration in the making for over 45 years!..Two incredibly gifted and acclaimed trumpet veterans finally together! Mike, a Stan Kenton Orchestra alum, and Ron, a Canadian Brass alum finally have gotten together to do this project after 45 years of friendship and talk! The talk is over-The project incredible! Joined by a first-class rhythm section and special guests, an impressive outing!
Mike has also performed and/or recorded with a 'laundry list' of jazz greats. He has appeared as guest lead trumpet and soloist with symphony pops orchestras around the world. As a recording musician, he has performed on more than 75 albums, including 20 under his own name.
Romm, a performer who has appeared worldwide on the stages of most major concert venues, music festivals, and international music conferences, is widely acknowledged as one of the pre-eminent trumpeters and clinicians of today. At eighteen he was already a veteran freelance trumpeter in Los Angeles, performing regularly with the Los Angeles Philharmonic Orchestra and the Los Angeles Brass Quintet.
In New York City, Mr. Romm established himself as a top freelance musician performing with every type and style of musical organization from the New York Brass Society to the New York Philharmonic to the Radio City Music Hall Symphony Orchestra to Broadway shows.
In 1971, Ronald Romm joined the newly formed Canadian Brass, which later established itself as the premiere brass ensemble in the world. In June of 2000, he retired from the group after participating in over 4,500 concerts.