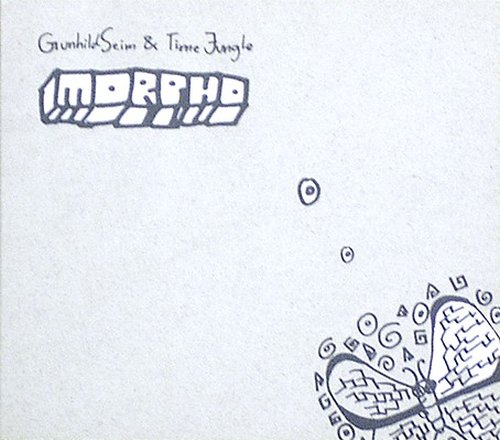 Artist:
Gunhild Seim & Time Jungle
Album:
Morpho
Genre:
Modern Creative, Chamber Jazz
Label:
Drollehala
Released:
2009
Quality:
FLAC (tracks+.cue)
Tracklist:
Palindrom (6:39)
Blue Morpho (3:52)
Gigue (4:38)
On My Doorstep (8:24)
Summer in Winter (4:30)
Frown (4:29)
Motion Sickness (4:11)
Just a Hunch (6:20)
Captain Cook (7:54)
Tunnel Mountain Drive (5:25)
DOWNLOAD FROM FILECAT.NET >>>
Personnel:

Gunhild Seim - trumpet
Arild Hoem - alto saxophone
John Lilja - double bass
Dag Magnus Narvesen - drums
Odd Borge Sagland - marimba, percussion (#2,3,8-10)
Stavanger, Norway-based Gunhild Seim & Time Jungle's sophomore release delivers further evidence of trumpeter Seim's mature compositional skills, also featured on her debut, Time Jungle (Drollehola Records, 2009). Seim matches intensity and adventurous improvisation—typical of improvisers coming from her hometown such as reed player Frode Gjerstad and drummer Paal Nilssen-Love—with nuanced, melodic lines of chamber jazz that are identified with the ECM style of Nordic jazz, all fused into organic, collective interplay.
Seim is accompanied by an excellent rhythm section that includes double-bassist John Lilja and drummer Dag Magnus Narvesen, who both played on her debut release; plus alto saxophonist Arild Hoem; and, on half the tracks, classical-trained percussionist Odd Borge Sagland, a disciple of composer Arne Nordheim.
The five pieces where Time Jungle plays without Sagland are rooted in the bop tradition—shifting between themes and transforming rhythms, while presenting Seim's polyphonic compositional skills as well as tight quartet interplay. On "On My Doorstep" and "Summer In Winter," Seim exercises constantly shifting ideas and moods, without losing the subtle structures that run along these pieces. The more energetic "Frown" and "Motion Sickness" are built on top of the hard-swinging base of Lilja and Narvesen.
But the best pieces are the ones with Sagland, having clearer references to classical and contemporary music. Sagland, together with Lilja's rock-solid bass and Narvesen's sensitive drumming, offers a wide base for Seim and Hoem to spread their meticulously executed music. The fractured structure of "Gigue," with intense blowing and drumming from Hoem and Narvesen, and the contrast between Sagland's meditative marimba and Lilja's arco playing, is assembled by Seim into a dance form. It brings to mind Dave Douglas' Tiny Bell Trio with its creative inside/outside interplay and healthy dose of humor. The marimba and bass add an exotic, jungle-like, dramatic touch to "Just A Hunch." "Captain Cook" begins as a spare and subtle duet between Seim's muted trumpet and Sagland's marimba that slowly gains volition and power as the other players join. This beautiful release concludes with the dark, chamber-like, and meditative "Tunnel Mountain Drive."
Seim is musician that deserves greater recognition. She is an original, creative composer with an impressive musical language.
Review by Eyal Hareuveni